Harry and Judy's RV Trip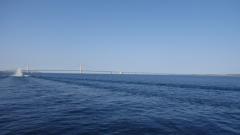 5th Aug 2014 - Summer 2014
Day 31-August 5, 2014-Mackinac Island, Michigan
Day 31-August 5, 2014-Mackinac Island
Weather is wonderful again, sunny and 75.
We were picked up at the campground by Shepler's Ferry to bring us down the hill to the ferry to Mackinac Island. It's usually a 16 minute trip but the early ferries go under the Mackinac Bridge, a 5 mile suspension bridge which connects the Lower and Upper Peninsulas of Michigan and also separates Lake Michigan and Lake Huron, so it took a bit longer. It goes under the bridge, immediately turns around and goes back under the other way to Mackinac Island.
This is a relatively small island, 3 miles long by 2 miles wide and the only transportation allowed on the island is bicycles or horse drawn-carriages. It's a madhouse when you first get off the ferry, everybody is in a rush to get somewhere, rent a bike, get a carriage tour, rent a kayak or just walk around. We walked about a block down the street to Mackinac Island Carriage Tours where we had booked a tour last night. We took a 2-horse carriage through town, the historic district, past the Grand Hotel, 380 rooms at $800 a night, up to Surrey Hills, where there is a gift shop, a butterfly conservatory, some restaurants and the horse stables. Walked around there for a while, then got on a 3-horse carriage and took a leisurely ride through Mackinac Island State Park, stopped at an overlook to see Arch Rock and Lake Huron below, Fort Mackinac, old cemeteries and then back to Surrey Hills. We got back on a 2-horse carriage which went back into town. The tour lasted about 2-1/2 hours. Had some lunch on Main St., then went to the visitor's center, then the harbor with the summer mansions across the street in the quieter end of town. Walked back through Main St., stopping in almost every fudge store there was for a sample. Main St. is filled with hotels, restaurants, rental bike and kayak stores, gift shops, did I mention fudge stores? where they stand outside and hand you a sample. Or you can go inside and watch them make it and get a different sample. You can rent your own horse-drawn carriage and they'll give you a 15-minute how to lesson. Giddyup, gee, haw, whoa, what else do you need to know? And eventually the horse will go back when it gets hungry. Hundreds of bikes on the road, in some places parked 2 or 3 deep on the side, horse-drawn carriages up and down the road and tourists, tourists, tourists everywhere. Gorgeous flowers are everywhere you look, fertilized by the every present horse manure. They even export it to the mainland.
Got back to the ferry depot just in time to catch a ferry back, although they leave about every half hour. Got a ride back to the campground and did a load of laundry and read for a while. Tried to find another campground between here and our next stop on Thursday but decided to stay here another night instead. Went to the Village Inn,a pub in town for a light dinner, lunch was filling. Found ourselves in the casino again for about an hour and I was the winner tonight, we came out ahead $160.00. Long day today, we're both tired. Planning on sleeping in tomorrow.
Diary Photos
Diary Movies
---