Harry and Judy's RV Trip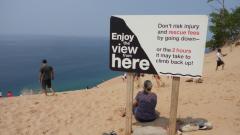 9th Aug 2014 - Summer 2014
Day 35-August 9, 2014-Sleeping Bear National Lakeshore, Leelanau Peninsula and Leelanau Sands Casino
Day 35-August 9, 2014-Sleeping Bear Dunes National Lakeshore, Leelanau Peninsula and Leelanau Sands Casino
Can't believe it, it doesn't move from 79 and sunny.
Leelanau Peninsula is much larger than Old Mission Peninsula so we got an earlier start this morning. Our first stop was Sleeping Bear National Lakeshore visitor center which is on the west coast of the peninsula. From there we took the 7.5 mile Pierce Stocking Scenic Drive which has twelve stops and overlooks. Sugar maples, American Beech and pine trees are in the forest and they are great to see but the star of the drive is the Lake Michigan Overlook which is at the top of a sand dune over 500' tall and very steep. Signs warn you not to go down because of erosion, danger and rescue fees but not everyone heeds that warning and people were climbing up and down. They say it takes about two hours to climb back up. We stopped at a picnic area for lunch at another lookout and by the time we left the drive we had been on it for over two hours. There's a bike trail in the park that was quite busy today.
Sleeping Bear National Lakeshore goes all the way around the western and northern ends of the peninsula and we drove with it and Lake Michigan to our left through Glen Arbor, two blocks of crazy tourists, Port Oneida, where there was a some kind of fair going on, Lake Leelanau, a pretty little lake, to Sutton's Bay, where we stopped at Northern Latitudes Distillery, where Harry sampled some kind of gut-rut. Not my thing. Dave, the pourer, winters in Citrus Hills and was asking us for info on what to do in Homosassa. A family of raccoons scurried across the road right in front of us at one point.
There are 29 wineries on Leelanau Peninsula-we tasted at only one-45 North (again, that 45th Parallel thing). This is a Harvest Hosts Winery where we can camp free and the owner showed us where we could stay-it seemed very nice, but we decided to stay where we are. And this is where my camera stopped working. It keeps saying, "turn if off and on again". I'll have to see what happens next.
Also in Sutton's Bay is Leelanau Sands Casino, where we stopped for about an hour and came out about $2.00 ahead.
The drive back to the campground was very picturesque. Sailboats on beautiful, blue Lake Michigan, gentle waves and people everywhere enjoying the glorious weather. Everybody is talking about how they had a long winter and, finally, it's nice. Traverse City has lots of clean little accessible parks, most on the water, most with a playground for kids and all busy. We even saw a few dog parks, just for dogs. Parking doesn't seem to be a problem. Boardman River goes right through town and there are a lot of restaurants that look out on the river where there are kayakers and canoers.
I read in a travel brochure that the dunes in Sleeping Bear National Lakeshore is the Most Beautiful Place in America and Traverse City is the Cherry Capital of The World (although I would argue in favor of Washington State) and was voted one of:
Top 10 Summer Trips
Top 5 Foodie Towns in America
Top 10 Places to Enjoy Local Wine
6 Best Cities for a Bike Vacation
Top 3 Emerging Beer Towns in USA (We didn't do any of the 14 breweries)
Top 10 Charming Small Towns
Top 10 Beach Towns
I have to agree!
We both agree we had a great time here and we sure were busy.
Although I'm sure we haven't even scratched the surface of what Traverse City has to offer (we haven't visited the Old Town, the historic district, the warehouse district, any of the wonderful beaches on Grand Traverse Bay, any of the restaurants, brew-pubs, etc.) it's time for us to move on tomorrow. Maybe we'll rest up at the next stop.
Diary Photos
Diary Movies
---