Harry and Judy's RV Trip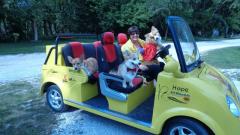 10th Aug 2014 - Summer 2014
Day 36-August 10, 2014-To Indiana
Day 36-August 10, 2014-To Indiana
85, sunny, more humid. We need the air conditioner tonight.
Drove 222 miles in 5-1/4 hours.
Stopped in Cadillac, MI for gas and for the first time in a long time diesel was less expensive than regular gas. Maybe somebody made a mistake but we found diesel for $3.52 a gallon where gas was $3.69. Funny thing was, every other station around there had diesel for $3.79. Oh, well. Glad we found the one we did.
We were going to stop in Grand Rapids but the road was good and it was early so we kept going. Hit a little traffic and construction in Grand Rapids but it wasn't bad. Went through a little town called Schoolcraft just north of Kalamazoo that looked interesting but we didn't stop. Started a new book on tape that has us hooked after the first chapter.
We continued on to Middlebury, IN, just two miles over the Michigan/Indiana border. Stopped at a KOA for at least two nights, maybe longer. KOAs are always more expensive than other campgrounds but they're usually better and have more amenities which is good if you're staying a while. We had $50.00 in points from previous stays so we used that to pay. Hope, the owner has three dogs-2 corgis and a fluffy corgi. They are two princes and one princess who was dressed in a red satin dress (Hope says she has a hat to match) and the males had bowties on. They drive around in a bright yellow KOA convertible they all like to drive. Nick, Hope's son, thinks she's nuts, I think she's about as sane as I am. It's strange to see all the robins here, I'm not used to seeing them anymore.
As we were checking in a man came in and said "Hi, Judy from Citrus County!" I've learned that we have our names and county on our license plate so I wasn't that taken aback. He said he has a Judy from Citrus County, too. Seems he's from Crystal River, his (I assume) wife is Judy and they own a campground in Chiefland. Don't know how they could travel in the summer if they own a campground but I'll probably find out during our stay here.
Settled in, read for a while, had a nice dinner and campfire. Campground is filling up fast, lots of big motorhomes are pulling in tonight.
Diary Photos
10th Aug 2014 How cute are they
No Description
---
10th Aug 2014 How cute are they
No Description
---