Harry and Judy's RV Trip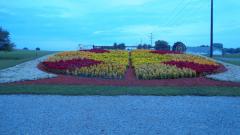 11th Aug 2014 - Summer 2014
Day 37-August 11, 2014-Shipshewana, IN
Day 37-August 11, 2014-Shipshewana, IN
Rained all night and most of the morning, then got warm and humid, about 80.
Spent a while on the phone with T-Mobile because we're not getting our e-mails and I can't text pictures. They basically told me I'm in nowhere land and wait 'til I get to civilization again. Then called about the warranty on my camera. I left the paperwork home but was pleasantly surprised to find I could replace it without the paperwork. But only at K-Mart and, of course, they don't have anything like what I want and don't even carry Sony anymore. I was surprised there was a K-Mart in Elkhart to begin with. So we got a cheap-o replacement 'til we get home and can research it better. Harry says I can use his and he'll use the new one. At least we got our e-mails while we were in Elkhart.
Enough electronics problems here in Amish country where the simple life sounds great at this point. We came back through Middlebury to Shipshewana and found a grocery store and stocked up then went to Guggisberg Cheese Factory and watched them make cheese and tasted everything. Drove around the Amish countryside and was amazed at how big some of the homes are. One farm had a wheelbarrow full of cucumbers with a "Free" sign on it. The man told me to take all of them, he must have been sick of cucumbers but they were so big I took two. This is one of the biggest Amish communities in the country and very widespread. We see horses and buggies going by the campground and they're everywhere in the towns. Went into Yoder's Department Store, Yoder's Hardware, Yoder's Red Barn shops, but not Yoder's Restaurant. There's even a Yoders Funeral Home. Came back to the campground and registered for three more nights but we had to move to a different site. Good thing we're good at this, it only took us about a half hour to disconnect, move and re-connect everything again.
Had dinner and then I had the bright idea to go on line for Sony help. Got as far as I have to put the camera back to factory reset, checked out all the manuals on line, couldn't find how to do it (it seems I have to reset it but I can't find the reset button, if there even is one on this model.) Found an on line chat with Sony, the agent told me I had to reset it (uh-huh) and he was about to tell me how when we lost the connection. I can see that he's been trying to reconnect with me for the last half hour and can't. Don't know if it's his connection or my being in nowhere land. It must be time to go outside and start a fire or stay in and read a book. Harry's busy trying to set up the new camera. I'm tired of electronics for one day. The campground owner said when they bought the campground twelve years ago the first question was "Do you have a pool?" and now it's "Do you have Wi-Fi". How things change.
So, an hour later, the agent is still trying to get me back on line. I found a number and called Sony help. Which should be called Sony no-help. He kept telling me to go to "Settings", I kept telling him I couldn't get that far. Then he tells me to go on line to the same web site I've been at all night. He walks me through the menu to part that tells me to go to settings which I told him I can't get to. Harry tried it and he got to the settings but, after setting the whole thing up again, he got the same message. Good night!
Diary Photos
---