Harry and Judy's RV Trip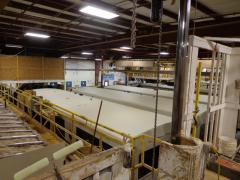 12th Aug 2014 - Summer 2014
Day 38-August 12, 2014-Keystone RV Factory Tour
Day 38-August 12, 2014-Keystone RV factory tour
Well, I hate a rainy day….but that's what we've been dealt. Rained all night and all day, chilly too, never got above 65…can summer be over?
Perfect day for what we did. In the morning we looked at maps and campground books and got a general idea of what to do for the next few days. Of course, later in the day, we got other ideas and decided on something else. Should be interesting to see where we go next.
We had a Keystone Factory tour set up for 2PM. Keystone is the manufacturer of our RV. This whole area is known as the RV capital of the world. And most band instruments are made here, too (Hi, Betty, that made me think of you). Elkhart, Middlebury, Goshen, Shipshewana, etc. have factories that give tours in the afternoon. Most of the work is done by Amish men who start at 4AM so by 1PM they're done and back on their farms doing those chores, so that's why the tours start at 2PM, when the building is empty. Most of the Amish men have learned a trade, mostly carpentry, so the labor pool here is great and they're very conscientious about their work. Along with the RV manufacturing comes everything that goes into the RVs so there is quite a bit of manufacturing and employment in these towns. The tours are set up so you can see the RV being built from start to finish. There were maybe 10 RVs set up next to each other, each in a different stage of completion so you can see how the finished product comes about. There was only one other couple on our tour and they were interested in buying a travel trailer and that's what was being assembled, but we also saw a fifth wheel that was almost completed. A wholesale salesman (he only sells to dealers) gave the tour and he was well schooled in his product but what he didn't know he made a note of to find out about. There's no sales here so no pressure. We had done one of these tours years ago but I can't remember the manufacturer. The tour lasted about 2 hours and then I went in the office and used their Wi-Fi to download pictures and videos. The Wi-Fi at the campground is so slow we could barely get our e-mails. So I caught up on that. Nice leisurely ride home through big Amish homes and farms and a lot of clothes hung outside getting wet.
Back to the campground we had a nice dinner of steak with onion cheese we got at the cheese factory yesterday and a nice glaze made from a Door County Wisconsin Syrah wine. That's when we got our new ideas about where to go next and spent the rest of the day as we started it, looking at maps and campground books.
Diary Photos
12th Aug 2014 RVs being built (roof view)
No Description
---
12th Aug 2014 Another quilt garden
No Description
---