Harry and Judy's RV Trip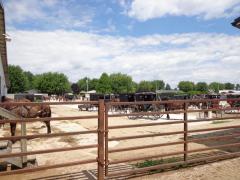 13th Aug 2014 - Summer 2014
Day 39-August 13, 2014-Shipshewana Flea Market & Heritage Trail
Day 39-August 13, 2014-Shipshewana Flea Market & Heritage Trail
Sun's back!!!! And it's another gorgeous day-got up to 80.
Started out on the Heritage Trail, a 92 mile trail through Amish towns, following the CD we got from the Visitor Center. We started at the campground in Middlebury and followed it to the Shipshewana Flea Market, where we were headed anyway.
The Flea Market is only open Tuesday and Wednesday and is one of the highlights of this area. It's over 50 acres of flea market "stuff", over 1000 booths, plus an auction of horses and cattle. There's an auction building with two rooms, probably 20-25 "auctioneers" in each room, each standing on a step stool and conducting an auction of indescribable "stuff". I've never seen so much "stuff" in my life (even in our garage), stuff even Harry would throw out. I guess if you collect things or you're an antique person you would love it. The noise in the building because of all the shouting was unbelievable. Every auctioneer had a microphone. There are two barns, one for horses and one for cows to be auctioned off. As we were leaving we ran into the couple who toured the Keystone factory with us yesterday. They are leaving to go back to Ontario tomorrow.
When we left we followed the CD again, which led us onto county back roads past the farms and big white houses of the Amish. There are over 20,000 Amish in this area, the third largest, after Lancaster, PA and Arthur, IL. They seem to be more "successful" than other communities we've visited, the houses are bigger and nicer, the barns are in good repair and the people seem to interact with the "English"-Us better. The Amish in Minnesota where we were a few days ago seemed shyer toward us, these people are friendlier. We stopped on the side of the road and ate lunch in a parking lot and watched the buggies go by.
We continued going north to Elkhart, a large city, where there weren't many buggies but plenty of traffic. We stopped in an RV dealer to see the new models, but he didn't have many. The CD then took us through Elkhart on a quieter road with the St. Joseph River on our left through Bristol, with large, beautiful homes into Bonneville Mill Park and the Bonneville Grist Mill. It was closed by the time we got there but we peeked in and enjoyed the flower gardens (the biggest dahlias I've ever seen) and the park.
From there back down to Middlebury and the Krider World's Fair Gardens, which is gardens replicating the gardens entered in the 1933-34 Chicago World's Fair. Krider developed the first thornless rose and the gardens were beautiful. Some of the plants were brought back from the fair and are over 80 years old. There was a giant mushroom sculpture, waterfalls, benches, ponds and fountains all surrounded by gardens. It was probably 5-10 degrees cooler in the gardens. All along the way there are quilt gardens, gardens planted to resemble different quilts and quilt murals painted on the sides of buildings, over twenty of each, each one different and beautiful.
This brought us back to the campground where they were having an ice cream social. Not ones to be anti-social we went but brought our ice cream back for after dinner. We had a great fire and then packed up a bit in order to leave tomorrow.
Diary Photos
---