Harry and Judy's RV Trip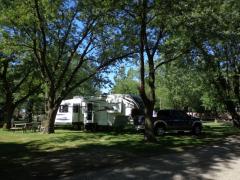 14th Aug 2014 - Summer 2014
Day 40-August 14, 2014-To Sandusky, OHIO
Day 40-August 14, 2014-To Sandusky, Ohio
Drove 177 miles in 4-1/2 hours.
Sunny, breezy, cool, never made it above 68.
Instead of taking Interstate 80/90 we decided to go on the local road US 20 through more Amish farms in LaGrange, IN, then into Ohio at Columbia. Nice road, 55 mph and not many towns to go through but as we neared Toledo we figured we should get on the interstate instead of trying to get through Toledo on local roads. Stopped at a rest area for lunch on the Ohio Turnpike (80/90) and there were electric hook-ups and a dump for RVs to stay overnight. I've never seen this at a rest stop-great idea-much better than a Wal-Mart.
They advertise our campground, Camp Sandusky, as "the cabin capital of Ohio"-they have 104 cabins, 120 RV sites and 52 tent sites. There's a bunny farm, two pools-one heated (that was the one with people in it today), soccer field, volleyball court, basketball court, playground with Fort Sandusky for the kids, pavilion and pancake house. Big sites, not wooded but with big trees. Lots of kids here, it's a busy campground. It's also a Passport America Campground so we get it for half price. Good thing, the closer you get to the east coast, the more expensive campgrounds get.
After we settled in we found a super Wal-Mart and stocked up on some groceries, filled up with some cheap, did I say cheap?, how about less expensive, fuel at Murphy then back for dinner, a nice fire and more Rummikubs.
Diary Photos
---