Harry and Judy's RV Trip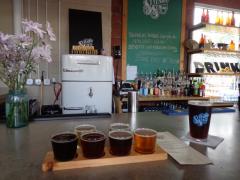 17th Aug 2014 - Summer 2014
Day 43-August 17, 2014-Chores & downtown Columbus
Day 43-August 17, 2014- Chores and downtown Columbus
Sunny, warmer and more humid, got up to 85.
Laundry, laundry, laundry. There's no laundry room at a state campground so we found a coin laundry in town. Spent most of the morning there.
After lunch we rode around the State Park, most of the week-enders are packing up and leaving today. It's a nice park with a sandy beach and boat ramp. The homes in Delaware and surrounding areas are big, pretty and have super large lawns. The grass in nice and green and some of them remind me of golf courses.
Took a ride into Columbus, which is the state capital and quite spread out and big. We stopped at Seventh Son Brewery and sampled some of their beers. The brewery looks like it's in an old car repair shop that had big bays that had been removed. The front of the building was open, lots of picnic tables inside and out and a bar along the back wall. We just missed "beer fest" so they were out of some but I had a flight of 6 and they were all good. Harry likes the dark ales but I like to sample whatever their specialties are. They had vodkas and whiskeys from Oyo Distillery a few blocks over and we drove there later but they had closed.
Rode through different sections, Germantown, with its narrow cobblestone streets, Short North Arts District with boutiques and antique stores, and busy High Street, which has restaurants, shops, taverns, art galleries, etc. There are overhead lights and arches going from one side of High St. to the other and they must be something to see when it gets dark. On one end of High Street is the business district, quite quiet on a Sunday evening, the middle or "main part" with all the restaurants and sidewalk bistros filled with people out for dinner and the other end, Ohio State University with many students coming and going. The University seems to spread out over a lot of Columbus, we heard there are as many as 60,000 students when school has fully started, probably less now that it's mid-August.
Back to the quiet campground, which is just about empty, had a nice fire and played Rummikubs.
Diary Photos
17th Aug 2014 Flight at Seventh Son Brewery
No Description
---
17th Aug 2014 Lights across High St., Columbus
No Description
---