Harry and Judy's RV Trip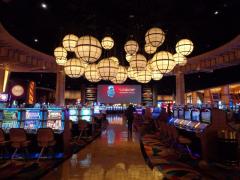 18th Aug 2014 - Summer 2014
Day 44-August 18, 2014-More Chores, Casino and Baseball
Day 44-August 18, 2014-More chores, casino and baseball
Nice again, 88 and sunny
Needed to find a AAA to get some more maps. My "library" in the back seat of the truck was missing a few state maps and tour books of places we may end up. Then had to get some diesel exhaust fluid for the truck and stock up on some more groceries.
Back to the RV to unload and eat lunch then back out to Hollywood Casino in Columbus. This is probably the nicest casino we've been in, it has a Hollywood theme, huge movie screens all over showing clips of old and new movies, brightly lit, clean carpets, gorgeous chandeliers and best of all it's NON-SMOKING. We usually take a deep last breath before going into a casino but this one surprised us when we entered. We did see a "Smoking Room" sign, usually it's the other way around, but we didn't look in. They had a lot of slot machines (we like to play the penny slots) and quite a few tables for Black Jack, Roulette, etc. Four restaurants on sight, a buffet (of course), burger joint, diner type food and elegant steak house. And although it was a really nice place we came out $15 lighter than when we went in.
We then went about 15 minutes away to a minor league baseball game at Huntington Park, the baseball stadium for the Columbus Clippers, the AAA affiliate of the Cleveland Indians who were playing The Toledo Mud Hens, the AAA affiliate of the Detroit Tigers. Really nice, big stadium with a bouncy castle for the kids, free give-aways (Harry got an insulated cooler, I got a nice backpack) plus other little things. Plenty of food concession stands and tonight was Dime-A-Dog night, only ten cents for a hot dog. Of course the beer was $8 and the water was $4. These teams are fierce rivals and the fans showed it. The stands were pretty full, especially for a Monday night and when the home team went ahead 8-0 in the first inning the crowd went nuts. In the end, the Clippers won 11-6 which made the home crowd happy.
We could stay in Columbus a few more days and still keep busy but we don't want any moss to grow on us so tomorrow we're out of here.
Diary Photos
Diary Movies
---