Sailng on Windwanderer.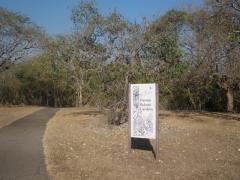 22nd Aug 2014
Friday 22nd August 2014
Friday 22nd August 2014
Where does the time go?
I really need to get back into the rhythm of writing daily again, I just never seem to find a quiet time to do it.
You might think yeah right you live on a boat, you have all the time in the world, well I tell you we don't we are always busy, and when we rest we are just plain too exhausted to do much.
We are sitting here with a million and one things on our list to do, we both have very itchy feet again, I don't think we will ever be real cruisers,
Real cruisers just sail around spending a lot of time in this place and that, we get itchy feet after only a few days.
A good friend once called us voyages, at the time we laughed it off, but now we are thinking he was spot on, we just like to be on the move all the time.
So we made a plan last week to leave today, yeap you heard right, and of cause we are still here...haha
This boat has a mind of her own, and always decides to give its best shot of driving us mental, not to mention broke in the process.
We sailed in here with two things broken, you might remember the problems with the anchor chain thingy, well we got the spare part delivered up here and it's now all fixed the other was a broken hand held radio, which flew off the seat in a very big roll and snapped the arial that was a little problem we just ordered a new one simple.
Then the fun started, all of a sudden we started getting a lot of water in the bilge when we started the generator, we soon discovered that it's exhaust had sprung a leak, so many a phone calls and visits out to the boat, it was taken out by a typical boaty type guy, man was he rough but a nice guy as well, he was down in the bilge for hours and came out all sweetly and covered in grease, so what does he do? No problems jumps over board has a swim cleans off then borrows a pair of The Captains shorts and goes on his merry way.
I told him he was crazy jumping into this water he just laughed and said the crocs aren't that big around here, and here I am not even game to put one finger in the water.
We waited the next day for him to come back when we got a phone call saying his boat had sunk in the middle of the night himself and his girlfriend were on board at the time, luckily they were both fine, Oh and The Captain lost his shorts lucky they were just an old pair....haha
So we then had the problem of who was going to reinstall the muffler, the guy who actually owns the business kept promising to come out and after a week finally came out after many a phone calls I tell you, he puts it back in, only to discover that the hose has warn out, so out that comes he takes it away, and almost another week goes by, finally he manages to get another hose a $120 a metre and we needed four meters yeah it shocked us as well.
He comes out puts it all back together, and we had noticed that the bilge pump was not working we have two so it was not entirely a huge drama, so he has a good look at it and it's stuffed, man it never ends.
We also have another problem with the generator stopping and starting the water maker not making enough water and a few bits and pieces, these are all in the process of new parts and stuff still to be fixed the list just never ends.
We have set a new departure date as Monday now, let's see how that pans out.
It has not all been work and no play, we have done fun stuff as well, although it's always work to get to shore and back out to the boat, we have clocked up to 7 meter tides it's crazy.
Having to drag the dingy up on shore or place it out deep, it all depends on the tides, we have had to ask people to help us lift it over rocks and back out in the water and also The Captain having to swim out 100meters or so to retrieve it, we never know what we are going to be faced with when we return to it, it's almost like a luck dip, will we win big and it's right there, or are we going to face a major drama just to get back to the boat.
It's sure keeps things interesting.
We have found a cafe in town that has free wifi, and have spent many hours there on several occasions downloading lots of bits and pieces, the other day I actually ventured out by myself and caught a bus into town, spent several hours at the Cafe then wondered down to the other end of town picked up a few groceries than back on the bus and back to the Yacht club where my chauffeur dingy driver picked me up, it was a nice outing.
This followed a shocking day before when we decided to go into town and have a bit of a look around at the waterfront, it's very touristy but it was still nice to see.
We walked a million miles in extreme heat back to the Cafe as I wanted to download some games and of cause being Saturday afternoon it was closed.
This then lead us on a merry chase to find wifi, after asking heaps of people directing us here and there and having no luck at all, The Captain decided to go to a local cruiser Yacht club, we were told it would be about a 20min walk, by this time we were pretty much warn out so decided to take a taxi instead.
We get there after about a 20 minute taxi drive am so glad we did not walk it would of taken us forever.
The taxi drops us off at a rundown area, and talk about Banjo Land I think this was the Capital of Banjo land, man was it rough and the Internet was shocking, I tell you we did not stay long.
It was pretty much a wasteful day but we did manage a few local sites, which was nice.
The following day was another day ashore after checking tides which we do every morning and waiting for the wind to drop so we can get ashore and still resemble human beings instead of drowned rats, not that it works very well, we always walk up to shore we wet arses.
We set off we went to the yacht club next door to the other one and yes they had free wifi almost on our door step, but it was shocking as well, am not sure what is wrong with this area, but most internets suck around here.
So we decided to give it up for now and went in search of the local Museum we had a long hot walk there but it was nice inside we learnt all about Cyclone Tracy, for those of you not in the know Cyclone Tracy hit Darwin on Christmas Eve back in 1974 and almost wiped out the whole town, we actually went into a little booth and listened to a tape of the actual event was very scary, what those poor people must of went through.
We also saw a local croc that was stuffed, they had tried to relocate it but it died while they were trying to save it, quite sad but man was it big, they had other stuff as well and we enjoyed the afternoon just looking around.
Following that we walked back to the local markets they have here every Thursday and Sunday nights, it just your typical market stalls, with people selling everything but it had a great vibe to it and we got some food and joined all the other locals on the beach where we sat and ate it, until someone started hanging around our dingy on shore, this was concerning us a bit as we were waiting for the tide to come in so we could leave as the dingy started to float again we noticed the guy go back to our dingy and he had a kid with him he put the kid in the dingy, and god knows what he was going to do, we took off towards it in a great hurry the guy must of seen us coming and grabbed the kid and took of in the other direction.
Talking about dingy's we managed to sell the one we found, yesterday at a good price
And now have a working spare motor in case ours dies.
That sure was a good find, although the money went straight away for provisioning.
Talking about provisioning we have spent days stocking up and getting all bits and pieces Marion Vic's brother in laws niece has ran us around everywhere she sure has been a great help, once again thank you so much Marion you sure feel like family now...I'm sure she is looking forward to the day we leave so she can have a rest...haha
Marion and her family spent a lovely afternoon on our boat last week, were the kids fished away and caught a lot of little fish which yours truly has kept for bait.
Talking about fishing I have been catching this and that over the last few weeks nothing to eat but still fun, I put a small fish on my big rod out back and just leave it out there, it's was a bit unnerving the other night when we were watching a scary movie and the rod started singing, I tell you we both almost jumped out of our skin...haha
The biggest fish so far was a small shark about a meter long, just one more reason not to go into the water apparently the area is full of sharks as well.
And that brings us back up to date again, sorry it's so long but I had a lot to tell...haha
Well tomorrow is another day.
Diary Photos
22nd Aug 2014 Image
This says it all look how dry it is.
---
22nd Aug 2014 Image
Sweetheart the croc.
---
22nd Aug 2014 Image
Reminds me of the Ark.
---
22nd Aug 2014 Image
Boats at the museum.
---
22nd Aug 2014 Image
Boats at the museum.
---
22nd Aug 2014 Image
The Captain found a new vehicle.
---
22nd Aug 2014 Image
Low tides.
---
22nd Aug 2014 Image
Everyone just enjoying the afternoon.
---
22nd Aug 2014 Image
Chilin on the beach.
---
22nd Aug 2014 Image
At the markets
---
22nd Aug 2014 Image
At the markets.
---
22nd Aug 2014 Image
The kids.
---
22nd Aug 2014 Image
The kids
---
22nd Aug 2014 Image
My shark.
---
22nd Aug 2014 Image
My shark.
---
22nd Aug 2014 Image
Great catch.
---
22nd Aug 2014 Image
Fishing.
---
22nd Aug 2014 Image
Marion our driver.
---
22nd Aug 2014 Image
Goodbye dingy.
---
22nd Aug 2014 Image
Way to close.
---
22nd Aug 2014 Image
The Darwin ferry getting up close and personal.
---
22nd Aug 2014 Image
The water front.
---
22nd Aug 2014 Image
Some sights.
---