Harry and Judy's RV Trip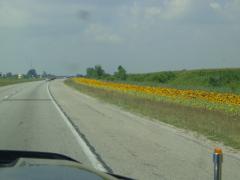 19th Aug 2014 - Summer 2014
Day 45-August 19, 2014-To Bluegrass, Kentucky
Day 45-August 19, 2014-To Kentucky
Drove 193 miles in 3-1/4 hours.
Beautiful day again, warmer (87) when we left Columbus, cooled off as we got to the Kentucky hills (83).
Drove through big, busy Columbus on I-71 where the drivers are crazier than in New York. But the sides of the road were filled with thousands of sunflowers. All along the highway we saw the bright, happy sunflowers, all facing in one direction. This took us to I-75 in Cincinnati (crazy drivers here, too), with its many bridges over the Ohio River, all painted pretty colors, through the tunnel and Voila! we're in Kentucky. We finished the book on tape we had been listening to for the past week. It was so good every time we got in the truck we'd turn it on even for a few minutes.
We're at Whispering Hills RV Park in Georgetown, just north of Lexington. Our site is on a small lake with green hills behind it. Had lunch and decided to just chill and catch our breath for a while.
A while lasted about an hour before I started looking for what there is in the area to do. And there is quite a bit. Made some reservations, went up to the office to pick their brains (the locals always have the best info and suggestions), got an armload of brochures and went back to the RV to form a plan. Had dinner then went out and filled up the gas tank. We found Wal-Mart's Murphy's is the least expensive so we always try to find one of those. As soon as we pulled out of the campground a deer was up ahead in the middle of the road. Knowing where there's one there's usually two we looked where it had come from and, sure enough, there was a fawn. They both ran in the woods but they were in the field across the street when we came back.
Then we returned to the campground and chilled.
Diary Photos
19th Aug 2014 Sunflowers on interstate
No Description
---
19th Aug 2014 On hold.....again
No Description
---