Harry and Judy's RV Trip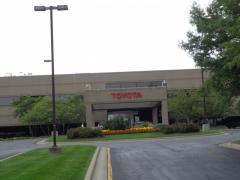 21st Aug 2014 - Summer 2014
Day 47-August 21, 2014-Toyota, Old Nags, Bourbon & Beer
Day 47-August 21, 2014-Toyota, Old Nags, Bourbon and Beer
Mostly sunny, one mid-day downpour, then sunny and 88 again.
The internet and cell service is spotty at best here so, after getting disconnected from both a few times, I finally was able to make reservations for the next few days.
TMMK, Toyota Motor Manufacturing Kentucky is ten minutes from the campground and we went there for a 2 hour tour of their plant. It's huge, the largest in North America and second in the world only to Japan. Opened in 1988, it has over 7.5 million square feet (156 football fields) under roof, 1300 sq. miles altogether, 7000 employees. It was the first plant in the US and still has a lot of Japanese influence. They manufacture Camry, Camry Hybrid, Avalon, Avalon Hybrid and Venza and next year will start production of Lexus ES 350. They create a car in 20 hours and make 2000 a day. Every employee has 54 seconds on the line to do their job. We were in a tram that went around the plant showing us how they made a car, starting with huge steel rolls that were then stamped for the frame, etc. (they make their own dies there), through assembly, etc., etc., etc. all the way to the test track. There were more robots than humans, even robotic carts delivering parts. Two levels of car parts moving constantly this way and that to the next station, enough to make you dizzy. They also produce parts for the last ten years of Toyotas. Place was a mad house, assembly lines on steroids. The guide made a big deal about what a happy little family their company was, then said that group leaders had a beige stripe on their hard hats and team leaders had a blue one so you knew who your bosses were. I'd prefer to know their names and faces. Most of the humans had a robotic look to them and none of them looked really happy to be part of the little family. Sounded like typical big corporate propaganda to me.
When we got out it was pouring but we continued to Old Friends in Georgetown, a permanent retirement farm for thoroughbreds whose racing and breeding careers have ended. They are a non-profit organization that now houses over 100 horses that have won 115 different stakes and have earned over $78 million. They had two cats in the office, had three but one disappeared last week. One of them, Lucy, was the biggest cat I've ever seen. She looks like she's been sucking on an air hose, she's absolutely round.
Still raining, so we have to stay inside, so we drove to Frankfort, the state capitol, to Buffalo Trace Bourbon Distillery, another on the Kentucky Bourbon Trail. This tour was fantastic. Shelly, the tour guide brought us into the warehouse where the barrels are stored for up to 23 years and the building where they were filling the bottles. This assembly line was so different from Toyota, these people enjoyed their jobs. Maybe a dozen people sitting on both sides of a long table, doing everything from making sure the bottles were sterile, filling them, putting seals on them, to sealing them with wax. I learned more about bourbon than I needed to know but it was really interesting. Harry and I split four tastings so we could try all they had to offer, plus a cream bourbon, like Baileys. I'm still not a bourbon person. Buffalo Trace is the oldest continuous distillery in Kentucky, they remained open during prohibition selling bourbon for "medicinal" purposes with the government's approval along with only three others that have since bit the dust. The distillery was like a little city, with old buildings, some on the national registry, many warehouses, storage facilities and even a homestead. Supposedly it's the most haunted building in Kentucky. Shelly, the tour guide, used to live in Clearwater and asked if Monkey Island was still in Homosassa. It's a really small world.
Back to Lexington, again on route 1681 through the horse farms. We pulled over to let somebody in a rush pass us and right on the side of the road was a deer munching on some grass and a few feet ahead were two more, just as interested in us as we were in them. Went to Sixth St. Brewery, a place that was recommended by the manager of the restaurant at the ballfield last night. It's an old bread factory made into a micro-brewery on one side (again with the open air bistro feel) and Smithtown Fish Market, a fish and chips restaurant, on the other side, with no door separating them. Two separate enterprises that share the building. You order the food, then the beer, grab a table (inside or out) and they bring you the food. Busy place, lots of young people meeting here for some down time. Good food, good beer, good times. Back to the RV to get ready to move on tomorrow.
Diary Photos
Diary Movies
---