Harry and Judy's RV Trip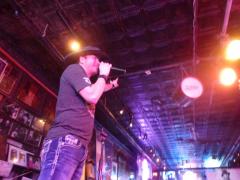 22nd Aug 2014 - Summer 2014
Day 48-August 22, 2014-Nashville at night
Day 48-August 22, 2014-Nashville, TN at night
Drove 234 miles in 4 hours
We're back in the southeast for sure, hot 92!
Once again the GPS tried to do us in, directing us to a road that had a low bridge, only 10'6" and the RV is 12'3". Good thing Harry's good at maneuvering.
Drove south on the Bluegrass Parkway to I-65 where we stopped in Bowling Green at the GM assembly plant for corvettes. They weren't doing tours but we ate lunch in the parking lot and then continued a few miles before there was an accident with a travel trailer on its side and the truck up in the air. Kind of gave us the willies….that could be us.
Started a new book on tape and gained an hour when we passed into the Central Time Zone. Arrived at Two Rivers Campground, across the street from the Grand Ole Opry about 2PM. We've stayed here before and like this campground. They were supposed to have entertainment here tonight but it got cancelled because of the heat. I don't think it's that hot but if I had to entertain outside tonight I'd cancel too.
After dinner we took the shuttle from the campground into the center of the action in Nashville, Broadway. The shuttle from the campground used to be just a small van when "Jerry" started but he's grown it and now has a few 25 passenger vans. Problem was, the one he picked us up in had broken air conditioning and just pumped out heat, which we didn't need in 91 degrees. We didn't get there 'til about 9PM and the place was hopping by then. More than forty bars on this street with entertainment in every one, some good, some not so good, but every one crowded to the max on Friday night. You can stop in, get a beer or a drink if you want if not, just sit (or stand on a busy Friday night) and listen to the band. After every set they pass the hat, which is the only way they get paid. Both sides of the street were really crowded, elbow to elbow most of the time, but everybody was pleasant, even those that had a little too much to drink. There were lines to get in to some but for some reason the bouncers let us in with no wait. We probably reminded them of their parents (or, dare I say, grandparents). No trip to Broadway in Nashville is complete without a stop at Mike's Ice Cream so that's where we ended up and watched people through the window for a while. Sometimes that's more interesting that the entertainment. The shuttle drive back was quiet compared to the noise level in the bars. And cooler, they took the one with broken AC out of commission 'til it's fixed. As soon as you get off Broadway the city is just about dead. What a difference a block makes. Nashville is one of our favorite cities-you can enjoy the "craziness" of downtown for a few hours and when you're done just grab the shuttle back to peace and quiet.
Diary Photos
Diary Movies
---