Harry and Judy's RV Trip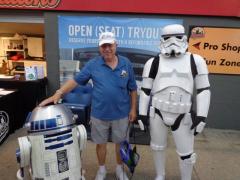 23rd Aug 2014 - Summer 2014
Day 49-Nashville Sounds Baseball
Day 49-August 23, 2014-Nashville Baseball
Hot-up to 97, overcast, then sunny, then rain shower, then sunny again, then rain.
Started the day looking at maps, charting a course for the next few days and making reservations. Did some laundry at the same time. Then grocery store, gas. There's a lot of things to do in Nashville besides music but we've seen some and done some and it's too hot to do too much so we came back to the campground to read. I've started a new book (thanks, Doreen, for picking this book, I'm really enjoying it).
Had an early dinner to get to the game which starts at 6:35. It was raining when we left the campground and we thought maybe it would deter the fans but the traffic we hit trying to get into the stadium proved us wrong. We went to Herschel Greer Stadium to watch the Nashville Sounds, AAA affiliate of the Milwaukee Brewers vs. Fresno Grizzlies, the AAA affiliate of the San Francisco Giants. Rained a bit during the game but we saw a beautiful rainbow. And nobody left because of the rain which stopped shortly after it started. Home team won 6-4! We got back to the campground just in time before thunder, lightning and more rain.
Off again tomorrow for more adventures.
Diary Photos
Diary Movies
---