Harry and Judy's RV Trip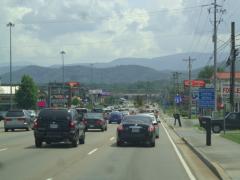 24th Aug 2014 - Summer 2014
Day 50-August 24, 2014-Pigeon Forge, TN
Day 50-August 24, 2014-Pigeon Forge, TN
Drove 213 miles in 4-1/2
HOT again, 95! And more humid but it cooled down after the sun set.
Rained all last night and still sprinkling and foggy as we left Nashville. Spent most of the time on I-40 E listening to the book on tape and watching all the kudzu that looked like topiary giants on the side of the road. Not much to write about except we're now back in Eastern Time Zone and there was quite a bit of traffic for a Sunday, especially in Knoxville.
From I-40 we turned south on 66 to 441 through Sevierville, the gateway to the Smokies, to Pigeon Forge and our campground, Walden Creek Campground "the sweetest lil' campground in the smokies." It's right on Walden Creek, run by Christie and her 53 ducks, all of which think she's their mother. They follow her all around the campground and tend to just lie down in the middle of the driveway. One of them is injured because an eagle picked it up but dropped it and its foot isn't webbed anymore. Saw a black and white cat with no tail too, but I can't get close-yet. It's a Passport America campground-half price, love it.
The campground is very quiet compared to all the chaos on the main road, Great Smokey Mountain Parkway. This road reminds me of Branson, although there are only nine theatres featuring a magic show, a Lumberjack Feud, an Opry, Hatfields and McCoys show, Country Jamboree, Comedy Barn and a few others. But what it lacks in theatres it makes up for with everything else. The same tourist attractions are here, Titanic, Hollywood Wax Museum, go-karts, golf (mini and regular), condos, etc. but there's also helicopter tours, zip lines, hot air balloon rides, an aquarium, a zoo, antiques, flea markets, caverns, rafting, water parks, Ripley's, about five outlet malls, a huge Christmas store, the Dixie Stampede and let's not forget what started it all, Dolly Parton's theme park, Dollywood. And every chain store you can imagine, restaurants, fast food and not so fast food, Walmart, Target, K-Mart, CVS, etc., etc., etc., even Mel's Diner (Hi, Mary& Bob, I know you love Mel's). Some wineries but we're not going there because all they have is sweet wine. And all this with the Smokey Mountains in the distance. This place must be a madhouse in the summer because Christie told us it's been dead the past two weeks and it's crazy now. The trolley to Pigeon Forge and Gatlinburg stops right at the entrance to the campground and makes a big loop, don't know if we'll take it or not.
Took a walk down to the creek, really nice and serene, picnic benches set up with fire rings, the ducks just sitting in the creek and frogs croaking. Then went out again and got some gas and washed the truck. Traffic has calmed down a bit. Drove into "Historic Sevierville" which is just like any other small town in America, drug store, hardware store, etc.
Back to the RV for dinner, looked at some brochures and decided we didn't want to do any of it. Maybe tomorrow we'll feel more like doing the tourist thing but tonight we just sat outside, watched a couple of bats flying low, then watched the stars. We heard ducks quacking around us but didn't figure out where they were 'til we went inside the RV and looked out the window on the other side. They were all settled down right outside our window.
Diary Photos
Diary Movies
---