Harry and Judy's RV Trip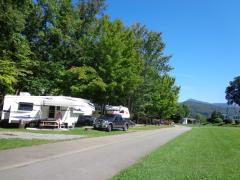 27th Aug 2014 - Summer 2014
Day 53-August 27, 2014-Cherokee, NC
Day 53-August 27, 2014-Cherokee, NC
Sunny, 82, cooler at night, fall is in the air
Got a text message from Nancy Colombo yesterday saying she and John were going to be in Ashville, NC today on their way up to Connecticut. John and Harry have been friends since they were about eight years old. John and Nancy moved to Homosassa about two years ago, about 5 miles from us. After a few texts we realized they would be in Cherokee this afternoon, so we met up at the campground. Sat and talked for a while then went to lunch. They wanted to go to the casino so we went to Brio for lunch, right in the casino. It was such a coincidence that they were here at the same time we were. I'm glad we got together, we had a good time as we always do.
After lunch went downstairs to try our luck at the slots. Nancy had all the luck today, nobody else won anything. They left to continue their trip up north and Harry and I went to downtown Cherokee to the Qualla Arts and Crafts building and then up the street to the Cherokee gift shops, mostly cheap souvenirs. Bought an ice cream at Two Crowes Ice Cream shop and got to talking to the owner, Jim Crowe about his family and the Cherokee Nation. Nice man, I could have talked to him for a while longer but lots of customers were coming in.
Back at the campground we had a nice fire. It's very quiet and peaceful at the campsite, the noise of the cicadas all we hear.
Diary Photos
---