Harry and Judy's RV Trip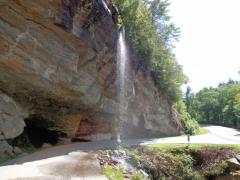 28th Aug 2014 - Summer 2014
Day 54-August 28, 2014-Waterfalls
Day 54-August 28, 2014-Waterfalls
Sunny, warmer 88, and humid but cooler at night.
Spent the day driving over 100 miles in a big loop through the mountains in search of waterfalls.
The road to From Cherokee to Cashiers, route 107, was a two lane windy road that took us through Cullowhee where we passed Western Carolina University. Right after that there were beautiful orange and white flowers on the side of the road that resembled zinnias, then on the other side of the road thousands of pink flowers, all different shades. Kudzu on both sides of the road, it even tried to cross the street in some places. It's pretty but devastating to other plants. In Cashiers, which is only 5 miles from the Georgia border, we stopped on the roadside for the lunch we brought and watched people. It's a summer resort and was quite busy today. Route 64 between Cashiers and Highlands was just as windy and hilly but a bit more populated and we started to see more resort communities on both sides of the road. Highlands seemed a bit more upscale, it has a playhouse, lots of shopping and restaurants. Again, very busy today. From there we headed toward Franklin in the Nantahala National Forest and now the curves got serious. At one point there was a sign that said "Road Narrows Next 10 Miles, 20 MPH". Is it possible that the twists and turns get worse and the road narrows? Oh, yes, it is! But then we saw Bridal Falls, so high we almost missed it. You can drive under these falls and not get wet, and we did. Less than a mile up the road is Dry Falls, with a steep walkway down where you can again walk under the falls. We missed the next two falls because we had to pull over on the opposite side of the road to view them and, like I said, the road was narrow and you couldn't see a car coming from the other direction. There was somebody already parked at the first one and there was only room for one car. The second one was just too dangerous to try to pull over to the other side. But we were happy just seeing the two we saw. There were quite a few school buses on the way back which reminded us that summer is just about over. It was a long day, though, and a lot of challenging driving for one of us. The other one is in charge of pictures.
Got back to Cherokee and did some grocery shopping, then went back to downtown Cherokee and visited some more Indian souvenir shops, then went back to the casino for one last hurrah at Harrah's. We gave them another chance to give us our money back. They declined. Back to the campground for dinner and another great fire, listening to the cicadas again. Off again tomorrow.
Diary Photos
Diary Movies
---