Sailng on Windwanderer.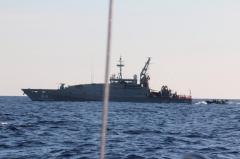 1st Sep 2014
Monday 1st September 2014
Monday 1st September 2014
Day 5
9pm 12°20S 121°58E
1489nm to go
Wow another month gone, and the way we are going, it will take another month to get to Cocos, yeap we still have not much wind, we are trying hard not to use the engine too much as we already have gone through a tank of diesel.
So we ghost along doing maybe 3nts if we are lucky and so it goes.
This morning we had breakfast delivered to us, serious, scrambled eggs, boiled eggs and bacon, and no we have not been out here too long...haha
Through the night we had to pass Ashmore Reef, which was a bit of a drama in itself, as you can't see anything, you just have to trust the chart plotter.
Ashmore Reef is where a lot of the boat people come into Australia, so there is always a naval vessel, anchored there.
So this morning I noticed a vessel moving up behind us real fast, this always gives me a bit of a fright, then it comes into view and it's a navel vessel.
With a dingy in the water, oh man this means they are going to board us, I race down and hide the mace and tasers, than race back up and wake The Captain.
He jumps up real quick and gets dressed, and they come up beside us, 8 of them in a rubber dingy, fully decked out for battle, helmets, guns you name it.
They start chatting away and what a bunch of nice guys, they said they got all our details from our AIS , I guess that's why they did not bother coming aboard, then they ask if we want breakfast, we are kinda still in shock mode and just say yes, they hand us over two wrapped plates wish us a safe journey and off they go.
So now we have to take back all the horrible stuff we have been saying about them, oh and the food was great, I just should of asked for a nice strong coffee as well, oh and throw in some Oj too...haha
So early this afternoon like clock work the boarder patrol plane flys over and calls us up, they actually asked if we were Wind Wanderer this time, The Captain joked and asked if they had lunch for us, as the navy gave us breakfast, all we got was a gruff reply about we don't have anything on board, some people have no sense of humour at all....haha
Oh and no fish to talk about yet, but am still trying.
Well tomorrow is another day.
Diary Photos
1st Sep 2014 Image
The ship.
---
1st Sep 2014 Image
Our breakfast
---