Sailng on Windwanderer.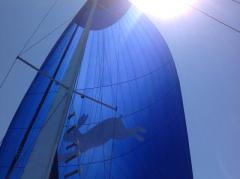 2nd Sep 2014
Tuesday 2nd September 2014
Tuesday 2nd September 2014
Day 6
9pm 1301nm to go.
Well we still have no wind surprise, surprise. We are not moving much, there is supposed to be South East Trade Winds, so far we have seen nothing of them.
So we decided to get The Rabbit up today, remember the spinnaker sail, with the huge arse Rabbit on it? With so little wind we were getting desperate so, The Captain decided to tackle this mother, an hour or so later it was flying high, it's such a massive sail, but very lightweight, and such a beautiful blue colour, but man that rabbit is ugly, I was so hoping the customs guys would not come past and see it, and as luck had it we had it down when they did turn up.
Early this morning we noticed something floating in the water, so thinking plane wreckage, ( well it did go down in the Indian Ocean ), we decided to start the engine and go check it out, and nope no plane wreckage, but we are still not sure what it was, obviously it was some kind of buoy, it looked anchored, but was bopping around all over the place, it was a great big styrofoam thing with Bamboo and rope tied around it, we came to the conclusion that it must be a local fishermen's marker. As we have seen some traditional fishing boats around.
Also we changed our clocks this morning, as we were looking on the map, and we should be in Jakarta time, so we lost 3.30 hours, yeah it sucked, as we are all out of whack now.
As per usual the customs plane came by, this time they just asked us our name and said that's fine we have all your details, so have a safe night. ( maybe they heard us bitching about them..,haha )
And I have been catching stuff, noticed I didn't say fish, well kinda fish I guess, I have caught a cuttlefish, at first I thought it was a squid, but in daylight we could see it was a cuttlefish, so I am now using it for bait, so much for all my visions of Salt And Pepper Calamari going through my head.
Well tomorrow is another day.
Diary Photos
2nd Sep 2014 Image
The Rabbit.
---
2nd Sep 2014 Image
No Description
---