Sailng on Windwanderer.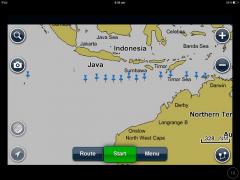 9th Sep 2014
Tuesday 9th September 2014
Tuesday 9th September 2014.
Day 13
8pm 767nm to go.
Man what a stressful day we have had.
This morning The Captain goes to start the generator and it won't start, this was not a great surprise to us, as it's been happening since we left Darwin, so much for spending all that money there to get it fixed, it actually has not worked properly from day one out here.
So up come the floor boards for the hundredth time, and I hear The Captain, swear, but in a real panic voice, I jump up to see whats going on and we have a massive amount of water in the bilge, the generator was actually sitting in about 15cm of water, now the generator is on it's own little platform as well, so that just tells you how much water was down there.
The Captain races to check the bilge pump and it's not working, this was a brand new one installed in Darwin as well.
We are so lucky we have a 2nd bilge pump, this one is a manual one, so we race and turn that one on, but the water is just not going down quick enough and we have no idea where it is coming from.
The Captain grabs a hand pump and he starts using that one as well, while he is pumping away I race around with a torch checking all the obvious places where water may come in and can't find anything, all the while checking the water level as well, eventually with the two pumps going it finally starts coming down.
The Captain does an inspection and finds that it's the stuffing box again.
The stuffing box is a round thing that goes around the prop shaft and slowly trickles water onto the shaft so it does not overheat it's meant to do this, well this time it was way more than a trickle The Captain tightens it up, and all is ok again.
Neither of us panicked too much, which was good, but we both had a few very bad moments when we thought the boat might just sink.
I know I was running through my mind what to grab to save and survive.
It scared us enough to write a list of what to gather to take with us.
In reality we would of most likely had about two hours before she would of gone down, and being not that far off the Indonesia coast, and also Christmas Island is not that far away, we most likely would of got rescued fairly quick.
Just the thought of it sends shivers down my spine, scary scary stuff.
Now we are keeping an eagle eye on the bilge and the stuffing box, just in case.
Well tomorrow is another day.
Diary Photos
9th Sep 2014 Image
Our Journey so far on The Map.
---