sailingfastforward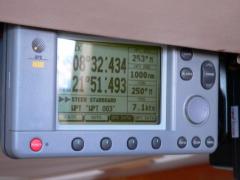 14th Apr 2007 - 3rd May 2007




3651nm to the MARQUESAS!



3561nm is a LONG non-stop passage! Colloquially termed The Coconut Run - itÂ's frequently downwind which makes for good progress and fast passages. Just what I like to hear! We were HOPING to do it in 20 days, but you just donÂ't know what the conditions are going to be likeÂ…

We were as prepared as we were ever going to be. Every locker was groaning and the freezer didnÂ't even have space for a sardine! We filled up with diesel and pulled out of the Puerto Lucia marina complex at 12:40am on 14 April. I was anxious and excitedÂ… this would be our longest voyage to date.

Luckily we had good wind right from the start and the sea state was not bad either. With the main sail up and the genoa unfurled, we were soon moving along quite nicely in the 20 knots of wind, although you could feel the boat was very overloaded! We also had 1-1.8 knots of current with us which was a real bonus of course! Soon hours drifted into days bringing with it ever changing conditions. The sea temperature was increasing and the evenings were getting warmerÂ… after the fifth night we could pack our winter woollies away for the evening shift!

The time went by rather quickly even though we lazed around doing nothing but the usual boat chores, reading and catching up on sleep… aaahhh bliss I hear you say! By now the sea state had increased considerably due to the sustained high winds, for days we had 10-12ft swell arriving at Fast Forward's port quarter – thankfully there was about a 7-12 second interval between peaks which gave you just enough time to take about 6 steps before bracing yourself. Sometimes, the sea also managed to get into a confused "washing machine" type of state. Which was also not very comfortable. So, with the boat heeled over and rolling in the side-on swell it's just about impossible to do anything else other than pretend to be sloths – and if you did, simple everyday tasks (we normally take for granted!) like getting dressed, having a shower and brushing your teeth took forever, and again was normally done in slow motion – or with your legs spread, and knees bent in a brace position and holding on with the free hand! Preparing fancy meals under these conditions is just too dangerous, and for a couple of days I was thrilled I had pre-cooked and frozen 16 meals! You still think it's bliss? Luckily after a few days the rain squalls and sea state settled down, but the wind remained constant, which was great!

We were the last yacht sailing in a group of about 24 yachts – most having left the Galapagos at different times… and so spread out that we're days apart! We had a voluntary SSB radio net at 1600 Zulu every morning, where boats checked in and positions were reported and noted, as well as wind and sea conditions – and any noteworthy events or problems. Ken was net controller a couple of times and he thoroughly enjoyed it! It was rather exciting to plot the boats positions ahead of us to see who we were catching up to – and passing! Psychologically it's great too because when you're feeling low, you know there are at least 60 other people out there all experiencing similar conditions…. we had 9 days go by without seeing another yacht, ship or fishing vessel!! We are but a speck in this BIG ocean.

The trip was not without a highlight… at 8:30am on day ten I was checking mail and Ken was making coffee, suddenly we heard a loud BANG! We both rushed up on deck to find the genoa was flailing. It appeared to be the forestay that had broken, which meant (for non-yachties) that there was now no support from the mast to the front of the boat, which in turn meant that the "foil" that holds the genoa could very easily be damaged if it bent. DARN!! Luckily we managed to furl the genoa away as neatly as possible. This was going to hamper our progress for sure. Double darn! Ken jury rigged the forestay using two other halyards. Thankfully Fast Forward is over-rigged so we were not too worried with the wind coming from aft quarter, but often a broken forestay can mean that a yacht can loose its rig. Not a nice thought.

So we were down to a reefed main sail and the staysail AND we were still doing almost the same speed!! We were chuffed! A couple of days later we were forced to fly the Asymetrical because we just could not hold our course with the staysail as the wind was forcing us to head further south… which was where we didn't want to be. The conditions were perfect – winds 12-18, 4-5ft swell, white puffy trade wind clouds - and we were brave enough to keep it up for 2 nights too!! The problem with the Asymetrical when you are trying to sail as dead downwind as possible, is that as the boat surfs down the waves the sail tries to wrap itself around the genoa or staysail which then equates to hours of work trying to carefully unwrap it –with the hope of it not being damaged of course so you can't take your eyes off it for a second, because if you do "Sod's Law comes into play" - ! You also can't fly it in a lot of wind as it can burst, so the night before we arrived, and 35nm from Fatu Hiva, we decided to take it down at 2am as there were just too many squalls around (and you just don't know how wind-packed squalls can be)… so better safe than sorry! We also needed some sleep!

We caught one small Mahi-Mahi which we promptly set free because it was not "pan-sized" (with our freezer being chock-a-block we had no space for extra fish)… but we caught nothing after that!!! We did see quite a few dolphins; and even had a Boobie accompany us for quite a few hours – it was quite comical watching him circle the boat, then fly towards the second spreader trying to negotiate a safe landing on a swaying object. Soon he had it down pat, but his little webbed feet battled to hold onto the spreader and if we happened to heel over a little too far he'd go sliding along the spreader – he'd flap his wings in protest, and fly off around the boat again for another go! Flying squid (!!) must be a phenomenon on The Coconut Run, as every morning there must've been at least 10 on the deck… not to mention the flying fish (but at least they have a good excuse!).

At dawn on 3 May, Fatu Hiva looked just like a huge cruise ship carved out of rock – the flat top created by the rain clouds that were hugging the very high mountain tops. WE DID IT!! I was so excited, it had been a fantastic passage, but I couldn't wait to see our friends and walk ashore!! It is true that we humans are blessed with a natural ability to immediately forget the uncomfortable and scary bits at the sight of land!

As we neared we were greeted by the majestic craggy hills and lush valleys. The Marquesas islands are high volcanic islands with steep, black, cliff-edged coasts indented by lush green valleys. Being so high, they are clearly visible from 20-30 miles away, making them a navigator's dream landfall. Besides, after 19 days they are a most welcome sight! The Marquesas are the most northern group of islands forming part of French Polynesia, which consists of four island groups inhabited primarily by Polynesians, but belonging to France, but more on this in the next installment!

So for the next couple of weeks, gone are the endless days where weÂ'd sit in the cockpit watching the beautiful cobalt-blue sea, the white freckled waves, the darting flying fish, the spectacular phosphorescent shows at night, the fluffy trade wind clouds and the not so fluffy evil black ones! It was our small world that we experienced for 19 days.



Diary Photos
14th Apr 2007 1000 miles to go!!!
---
15th Apr 2007 Our one and only fish we caught!
---
15th Apr 2007 Dolphins at last!
---
16th Apr 2007 Another glorious day sailing...
---
19th Apr 2007 Our visiting Boobie
No Description
---
25th Apr 2007 Ken catching up on some sleep
---
28th Apr 2007 Just another day...
No Description
---
3rd May 2007 Approaching Baie de Vierges anchorage, Fatu Hiva
No Description
---