ScouseLeeM on Tour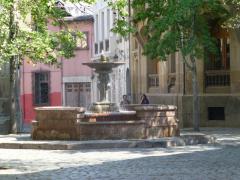 29th Sep 2014 - 2nd Oct 2014
Santiago and Andes horse trek
The start of a '3 for the price of 1' adventure, 3 more items off the bucket list and now touching 40 of the 50 tasks I set myself all those years ago...horse riding in the Andes, Easter Island, and Angel Falls..
Arriving in Santiago, I started with a day of ambling aimlessly around the city using my legendary array of Spanish phrases to survive - 'ham and cheese sandwich' and 'still mineral water' being the primary ones, along with hello, goodbye, please, and thankyou. This was followed up with an offcial city tour taking in the cathedral, original colonial areas of the city, and beautiful panoramic city view, taking in the surrounding mountains I was due to ride across in the coming days. I was stunned to find the locals are not all morbidly obese given the apparent addiction to enormous cream cakes and hot dogs smothered in mayo, guacamole, and ketchup..for breakfast! Still, good value to be had in the local cafes with lunch and dinner coming in at a couple of bucks.
The next 2 days were spent on the first of my 3 adventures. Picked up in Santiagio and driven a few hours outside the city to a ranch jointly run by Brits and locals, to join a motley crew of travellers from Oz, US, and Argentina. We were paired up with our horses for the next 2 days, trekking through the Andes mountains.
Shockingly, based on my previous riding experience (2 hours in Australia 16 years ago!), that made me an 'intermediate' rider amongst the group - so I was paired with a less experienced horse than the novices..slightly disturbing, more disturbing when they told me new pal had just been retired as a rodeo horse. Thankfully something was lost in translation, not a bucking bronco, but a very docile sandy brown gelding, called Pedro.
After all of 5 minutes riding instruction, and the entire group deciding to shun safety helmets in favour of cowboy hats (more photogenic), we set off for 2 days with overnight camping in the mountains: spectacular views with clear blue skies in pleasant 20 degree sunshine, snow capped mountains, incredibly steep climbs and sharp descents, riding through rivers almost waist high, and riding across almost sheer drops with no discernible path. One Argie girl in our group screamed her lungs out regularly, and had to end up getting a tow rope from one of the local guides.
My mount on the whole behaved very well, while a few of the others played up - our guide rode the only full stallion (the other poor blighters were all gelded), and the testosterone kicked in a few times, especially once horses were tied up for our overnight camp. This led to the guide getting a little heavy handed with a whip, the only part of the trip I didn't enjoy..one of the other horses got spooked as we posed for photos, and threw an Ozzie bloke to the floor, but no damage done.
We made overnight camp with our 2 non English speaking guides doing all the hard work & cooking - after an early morning campfire breakfast of scrambled eggs, we made our way back to the ranch. Our initial instruction had been to not allow the horses to stop and eat any vegetation while riding, but Pedro insisted on trying at every possible opportunity: walking at the very edge of every trail and carrying me through every tree/bush rather than around them. He also insisted on walking right at the very edge of sheer drops rather than the safe side of the paths, thankfully I'm not a vertigo sufferer.
On return to the ranch, we dismounted with slightly sore undercarriages and prepared to go our separate ways, but not before Pedro went full on psycho..a few minutes after leaving the horses at the stables with our guides, Pedro hurtled past at a full gallop, setting off down the long driveway toward the open road and highways beyond. Thankfully the guides finally caught him, and brought hime safely back home.
Returning to Santiago, early to bed for a very early wake up and the flight to Easter Island...
Diary Photos
1st Oct 2014 Santiago Old Town
No Description
---
1st Oct 2014 Santiago Presidential Palace
No Description
---
1st Oct 2014 Santiago Backdrop
No Description
---
2nd Oct 2014 Andes
No Description
---
2nd Oct 2014 Andes horse group
No Description
---
2nd Oct 2014 Stopping for camp
No Description
---
2nd Oct 2014 Andes
No Description
---
2nd Oct 2014 Andes
No Description
---
2nd Oct 2014 Say Cheese..
No Description
---
2nd Oct 2014 Andes photo stop
---
2nd Oct 2014 Horses at the ranch
No Description
---
2nd Oct 2014 Andes
No Description
---