Sailng on Windwanderer.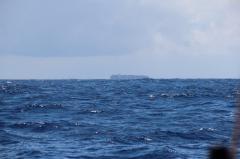 7th Oct 2014
Tuesday 7th October 2014
Tuesday 7th October 2014
Day 1
1887nm to go.
Well we are still here cruising along.
Not much is happening we have very different wind strengths, at the moment we are lucky to have about 9nts at one stage today the only wind we had was what we were making through the water, it's crazy, but also nice at least it's calm.
The Captain saw a huge ship today on his watch, he said it was really strange and took a couple of pics of it, I had a look when I woke up, to me it just looks like a massive cargo ship, but it was loaded with a lot of containers.
My arm is still no better, but I did manage to cook a bit of dinner for us, only just with a lot of tears involved, man it hurts.
Well tomorrow is another day.
Diary Photos
7th Oct 2014 Image
Strange ship
---