Sailng on Windwanderer.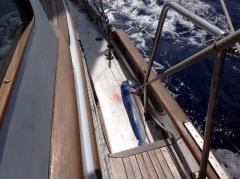 19th Oct 2014
Sunday Sunday 19th October 2014
Sunday 19th October 2014
Day 13
401nm to go.
Tonight we dined on fresh baked Mahi Mahi and lemon and saffron Risotto.
Yeah you heard right I caught a fish, yay yay yay.
Finally after all this time.
This morning I dug out a few bait fish that I had in the freezer and thought I would give that a go, as nothing else was working.
I was having my daily sleep, the way we have been doing it lately is I take first watch, and The Captain lays down for a sleep around 8-9pm I wake him for swap over around 1-2am I sleep well sometimes I try and sleep and wake up around 6-7 am than The Captain gets a few more hours sleep and I have a lay down around 1ish for a few hours.
So I'm having my sleep when I hear a bang, than a second one, I sit up thinking what in the hell is The Captain up to.
I look over at my hand line and its the plastic bottle that's tided to the line hitting the deck.
This plastic bottle is my little alarm for my line.
Well was I excited or what I was instantly awake jumped up and look behind the boat and yeap it's a Mahi Mahi.
Now we had two choices The Captain wanted to go out on deck and rig up our pole to hold the sail out at a better angle as all the time we have had to slow the boat down to make water, we also had to change direction a bit.
Well this has taken us way off coarse, so now we need to have a better angle on the sail, hence the pole to get us back on track.
I just wanted to land my fish.
But The Captain won, so while he was out there being all macho, wresting poles, sails and rough conditions, I was having my own little macho moment trying to bring the fish in closer using only one hand.
It was not easy I tell you I had that line wrapped around my knees, my legs my ankles, rigging anything I could think of so that I wouldn't hurt my sore hand.
When The Captain finished we both wrestled this mother of a fish on board, well more so The Captain, but I was telling him what to do.....haha
Lucky for us this guy was very exhausted and did not struggle much actually there was none of that mental attitude at all, I think he bucked once and that was it.
We watched him change from the brilliant green and yellow, to silver than blue than back to his green and yellow.
It always amazes me every time this happens, it's also sad as well, but at least it's not killed just for the fun if


Diary Photos
19th Oct 2014 Image
My fish changing colour.
---