Sailng on Windwanderer.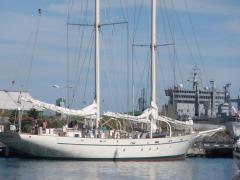 28th Oct 2014
Tuesday 28th October 2014
Tuesday 28th October 2014
Today we decided to escape the boat for awhile, two reasons one was there was a really big boat like 150ft coming over to the marina and we knew they would want us to move and the other was we wanted to get some fresh food.
So off we go we find a spot where the Internet worked as we needed to make a few Skype calls to some local repair guys.
The Internet here is free but a bit dodgy it will not work on my ipad from the boat, but the laptop works ok.
So we make our calls then with instructions we set off in search of a local fruit and vegetable market.
Where we are is kinda like in the middle of a upmarket shopping mall and we have people walking past the boat all the time, a lot stop and take photos, it's nothing to look out and see them standing in front of the boat and the other taking photos.
So we walk through a very nice area, than were told we had to take the subway under the road and that lead us to a very third world area.
Man I never get used to this the poverty the smells the venders sitting on the side of the road and foot paths trying to sell you anything and everything.
We eventually found the market and what a surprise although it smelled bad the fruit and veges were outstanding and so so cheap, although we had to put up with them in your face wanting to buy this and that and bargaining walking away and them chasing us to buy, it all was a bit overwhelming, but next time we go back I think we will be better prepared.
We came across a little supermarket got a few things there it was not much good but we did make it back to the boat in one piece just, and all our worldly goods still with us.
Tonight we had a happy hour on one of the other boats we had a really good time it did go late into the night but was nice.
Oh I forgot to say just before we went to the other boat I went off searching for Internet while The Captain locked up the boat and was going to meet me there.
He came to meet me with a funny look on his face, apparently as he was closing up the boat a lady came up to the boat and started chatting him up and wanting to come on board, yeap another crazy we had been warned about a lady doing just this and while the guy and her were busy, two others would come on board and rob the boat.
Eventually she went away and meet up with another couple, The Captain went and told security and they kept an eye on our boat and the area around it.
The joys of Mauritius.
And the big boat ended up in front of us, man it's a huge boat and very nice they take uni students on voyages around the world at the moment there is 33 on board all under 30 most around 20 year olds.

Well tomorrow is another day.
Diary Photos
28th Oct 2014 Image
150ft yacht very nice.
---
28th Oct 2014 Image
Gay lion.
---
28th Oct 2014 Image
No Description
---
28th Oct 2014 Image
Erotic fountain.
---
28th Oct 2014 Image
No Description
---
28th Oct 2014 Image
No Description
---
28th Oct 2014 Image
No Description
---
28th Oct 2014 Image
No Description
---