Sailng on Windwanderer.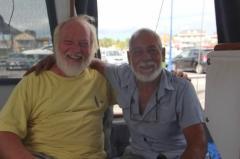 31st Oct 2014
Friday 31st October 2014
Friday 31st October 2014
Well it's still a day of boat repairs with the guys bringing back the heat exchanger and putting it all back in place, this took a total of 4 guys, it's crazy as they only needed two at the most but no, we ended up with a boat full.
The next problem was a leak in the hot water service, our main water supply flows through this and it has resulted in the tanks emptying all the time, by the way I was getting the blame for using way too much water, when I knew I wasn't, so it was kinda nice to be able to say. I told you so....haha
So they take this out and off they go once more to repair it, as per usual they come back and got The Captain and off he goes with them.
He gets back just in time for us to move once more.
The security guys here had promised us a good spot and when the boat that was there left The Captain went over and asked if it was ok to move there now, they said yes and as he was walking back to our boat another boat came and took the spot.
The Captain heads back to their office, and they assure him, it will be moved by the time we get there.
So we start up the engine untie the ropes move the fenders over to the other side and make our way carefully out of the spot we were in, come around to the other side, and yeap the boat is still there.
So we are in the middle of the harbour doing figure eights, while they madly scramble around, they move one boat back and the other one forward, they yell out to us to come in, in a space that is about half our boat length, man they know nothing.
This goes on for a fair while, they move it forward a bit more but it's still not enough, eventually they get it right and in we come, we made it easy, even if we were holding our breath.
We ended the day with a walk around town and a meal at one of the local little cafes here it was a nice evening.
Although we were concerned a bit about leaving the boat at night as we still have a crazy amount of people coming up to the boat and taking photos.
Well tomorrow is another day.
Diary Photos
31st Oct 2014 Image
The Captain and John
---