Sailng on Windwanderer.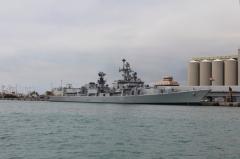 2nd Nov 2014
Sunday 2nd November 2014
Sunday 2nd of November 2014
Well first off I want to wish my girl Madeline a very big Happy Birthday, I so wish I could of been there with you today to celebrate, but it was not meant to be, I hope you have a fantastic day, and I know next weekend you will be having a great party with all your friends and family. Love and miss you heaps my girl. xxx
So today we decided to rest up a bit, partly because we are warn out...haha and Sunday seems to be the only day that the Internet works here fantastic.
So a lot of net searching was taking place today and phone calls home, it was so nice catching up with the family members.
Also there is always the never ending entertainment of people watching and boat watching, something is always going on around us.
Three navel destroyers came in yesterday they are Indian ships they are here to celebrate this weekend the day of the dead, from what we can make out its a big celebration of all the lives lost, they don't mourn when someone dies but once a year they celebrate the deaths and have big parties.
Talking about deaths there was a accident a few nights back, almost right outside our window, we blissfully slept through the whole thing.
When we woke up in the morning we noticed a boat upside down tied up to one of the coast guard boats, later we were told that a tug boat hit a customs boat in the middle of the night they were not wearing life jackets and both the guys on the Customs boat were killed, all very sad.
Another Aussie boat came in this afternoon, James is a solo sailer and just sails around the world, he has three home made Rums every night and sleeps for eight hours right in the middle of the ocean, he has no alarms at all, and just believes when your numbers up it's up, crazy stuff.
So we were invited over to his boat to try his home made Rum.
We were sitting there chatting away with another couple from Germany when we look over and there is a guy climbing onto our boat.
Oh man here we go again, we wait a few minutes to see whats going on, he has another guy with him taking photos, now these two are very well dressed middle aged Muslim men.
He then starts posing he has a book in his hand doing this and that, we are all watching with our mouths open, he even goes up to the front of the boat and does the king of the world pose
Then he disappears I got really concerned then, as did The Captain, we both jump up and scrambled off the boat to head over there, The Captain, puts one foot on shore and falls, he is all tangled in dock chains, and boat safety lines, we are all trying to stop him falling in the water, the poor guy face planted the cement dock and had blood running down his face from a head wound.
We mop him up and he races over to our boat, by this time the guy has reappeared again and they are still taking photos, he asked them to get off the boat he explains that this is our home and they have no right being on here, they say oh we thought it was just tied up here, well so, does that give them the right to climb on board man it makes me angry.
And earlier in the day an Indian family, Mum Dad and two kids are standing beside the boat, we are both sitting in the cockpit when all of a sudden she starts pulling on one of the fender ropes to bring the boat in closer to shore, they were all going to climb on board.
I poked my head around the corner and glared at them and they took off real fast, man they have no idea of personal space and they just don't care at all.
We eventually went back to our rum drinking and had a really nice night.
Well tomorrow is another day.
Diary Photos
2nd Nov 2014 Image
The navel ships
---