Sailng on Windwanderer.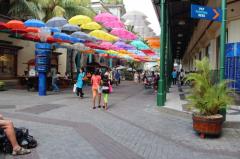 7th Nov 2014
Friday 7th November 2014
Friday 7th November 2014
Well I just could not stay on the boat a moment longer.
Today I had to get away, armed with a camera, and some money I set off.
Although I only stayed in the more upmarket area, as the really bad area I don't trust to be there by myself.
There is just so much going on around here, I wandered here and there taking pics of this and that.
They have a market area where I wandered around fighting off stall holders, serious some are so so bad, one stall I went into a lady came up to me shoving things In my face, not talking any English I tried to be polite and told here no just looking and walked away.
Well did that stop her no way, she followed me around half the markets, she was so close behind me I could feel her breath on the back of my neck.
Yeah I was pretty much freaking out by this time, but eventually she left me alone and I enjoyed the rest of the Markets.
They have some really trashy touristy stuff and then they have the craftsman and woman working on their craft while they chat to you.
I always asked if it was ok to take pictures of their work, but no matter how much encouragement they would not get into the photos....haha
All in all I had a very enjoyable day, and felt very tired but refreshed after it all.
I think the photos say it all, although this area is very upmarket for Mauritius it really is just a tourist area, the real Mauritius is just a subway under a main road away.
Oh and late in the night about 6 security guards came over to help move our boat.
Yeap we had to move once again, this time it was only a boat length back so was not too bad.
And then we got to sit on the back of the boat and watch a great fireworks display, why we have no idea, I think they use any excuse to let off fireworks...haha

Well tomorrow is another day.
 
Diary Photos
7th Nov 2014 Image
No Description
---
7th Nov 2014 Image
No Description
---
7th Nov 2014 Image
No Description
---
7th Nov 2014 Image
No Description
---
7th Nov 2014 Image
No Description
---
7th Nov 2014 Image
No Description
---
7th Nov 2014 Image
No Description
---
7th Nov 2014 Image
No Description
---
7th Nov 2014 Image
No Description
---
7th Nov 2014 Image
No Description
---
7th Nov 2014 Image
No Description
---
7th Nov 2014 Image
No Description
---
7th Nov 2014 Image
No Description
---
7th Nov 2014 Image
No Description
---
7th Nov 2014 Image
No Description
---
7th Nov 2014 Image
No Description
---