Sailng on Windwanderer.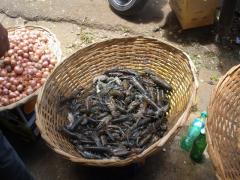 8th Nov 2014
Saturday 8th November 2014
Saturday 8th November 2014
Well today the repair guys are coming back around 3-4pm no the generator is still not working, we are starting to get a bit worried as they were all keen to take it all apart, but putting it all back together, well they just seem to stand around scratching their heads.
We are moving on soon, yay so today we decided to brave the third world area once again and get some fresh fruit and veges at the local markets.
It was extremely hot and after walking miles and miles trying desperately not to break an ankle on the excuse that they call a pavement, searching for a shop that sells boat parts and fishing gear, we finally gave up,  we were both sweating like crazy by this time The Captain wanted to keep going me I had, had enough, so we made our way back to the fruit markets.
Now we had been told they have other touristy stuff upstairs, so we decided to have a look up there first, weaving our way through this place and trying to find the stairs to take us up, all the time fending off stall holders trying to sell you this and that.
When one guy wants to sell me spices, I said maybe later we are going upstairs first, big mistake.
He has a stall up there as well, so I said to The Captain that he has taking me under his wing and showing us where to go,  the Captain said no way he has his claws in you....haha
Well it was like Moses spreading the Red Sea, he was clearing people away so we could get through, I had a sinking feeling that this was going to cost us a lot of money.
Now they all have the same spiel you tell me how much you want to pay, we make a very good deal for you, how many you want to by, it just goes on and on.
We say tell us a price first now they always start with a extremely high price, it's just crazy.
We eventually get it down to under half the original price but you walk away knowing you still have been ripped off big time.
And man was this place crazy we did buy this and that, but in the end we really had to be rude to them so they would leave us alone, I hate it, I hate the hustle and bustle the rudeness of them all and personal space, They have no idea at all.
We made our way downstairs to be hassled by more and more but eventually we managed to get some really cheap and healthy fruit and vegetables.
We fought are way outside only to be hit by the masses, I tell you there was hardly any walking space, every bit of spare space is taken up with street merchants all trying to sell their wares.
The smells, the noise, the thousands of people, the cars and motor bikes that they actually kick start, are just a bit too much, man this place is just chaotic we pushed and shoved our way, to the main road, and then taking our lives into our own hands made the mad dash across the road and back to the underground subway, that eventually got us back into the more civilised area.
We made our way to our favourite ice cream shop, had a lovely couple of scoops of ice cream and then two very weary adventures made their way back to the boat where we collapsed in a heap.
John and the electrician eventually turned up around 5pm and yes the generator is now working, yay yay yay.
Although there is still, what looks like a million parts strewn around the place they assure me John will be back early in the morning to finally put it all back together and we can finally have our boat back in some kind of semblance its been a long time tripping over boat parts I tell you.
But we are so happy to have it all working again.
Well tomorrow is another day.
Diary Photos
---
8th Nov 2014 Image
The pavement.
---
8th Nov 2014 Image
No Description
---
8th Nov 2014 Image
Dried prawns anyone?
---
8th Nov 2014 Image
No Description
---
8th Nov 2014 Image
No Description
---
8th Nov 2014 Image
No Description
---
8th Nov 2014 Image
No Description
---
8th Nov 2014 Image
A well stocked fruit bowl.
---
8th Nov 2014 Image
No Description
---
8th Nov 2014 Image
No Description
---
8th Nov 2014 Image
No Description
---
8th Nov 2014 Image
No Description
---
8th Nov 2014 Image
No Description
---
8th Nov 2014 Image
No Description
---
8th Nov 2014 Image
No Description
---
8th Nov 2014 Image
No Description
---
8th Nov 2014 Image
No Description
---
8th Nov 2014 Image
No Description
---