Dora The Explorer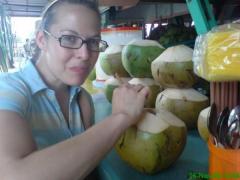 23rd May 2007 - 26th Jun 2007




Hello!



So itÂ's been a while since I last blogged so lots to talk about. Melbourne is pretty
c-c-cold at the moment -10 degrees and a cold wind so it's been a little shock to the system after stifling QLD. I moved to Kew in the posh eastern suburbs about a month ago with an old uni mate of a mate of mine here. It's in a rather salubrious neck of the woods rather like the one back home, with Richmond the next suburb along. Fiona is a financial planner and owns the flat so it's a gorgeous wooden –floor downstairs flat which is bloody cold at the moment.

IzzyÂ's Springs
Most places over here come unfurnished so I had to get myself a bed or at least a mattressÂ… 50 bucks later and Izzy Stradlin (from Guns n Roses) had sold me a lumpy queen mattress advertised over the Gumtree Website. Most disappointed I was to find that when we picked it up Izzy was a bald student in his 20Â's and indeed not a member of one of the most famous rock bands in the world. We managed to attach it to a mateÂ's roof rack and gingerly made our way back over the side of the road. ItÂ's the worst $50 I have ever spent!

The last month I have really been studying and getting through these small business modules, which along with work has made me rather dull. The weather has been terrible so huddling inside in the warm has been the only option. My hand is recovering well and I am almost back to normal functionality which is great. However my little finger has gone and my hand is slightly deformed so itÂ's highly likely that I will be taking legal action very soon. I am working at ANZ still which is all very stress free and easy, plan to be here till Aug. I am looking to stay in Australia for at least another 6 months to develop my marine stuff so I will need to get sponsorship from one source or another. Work has offered which is a nice gesture but thatÂ's not why I came out here so am going to go back to QLD in Aug to try and get a job diving with the focus on sponsorship.

The South African opportunities seem to be extremely hard to come by, and as my South African mate said "called "affirmative action" and I must say that it is generally shit but that is the way it now works." I would still love to go at some point but at the moment it's proving quite difficult to get into the place! They are happy to let you inject lots of cash into voluntary projects but they don't last more than a few weeks.

So I've been to a 'Mind, Body, Soul' exhibition at Melbourne exhibit centre which was interesting, far different from the Erotica one previous at Christmas. I got involved in the 'Gigglers' whereby laughter is indeed the best medicine. A rather large lady held court on the stage and with her enormous lungs proceeded to engage us all in varying bouts of laughter. It was very strange to say the least…I was waiting for the Mormons to crawl out from under the woodwork. I've also been to a few Greens meetings as I've a friend quite involved in that so that's been rather an eye-opener. Generally everyone is very consummate & professional but there were one or two who were on bail after violent demonstration with the summit held here earlier this year. Nice.


Last week was a sad one whereby a gunman shot 3 people right outside our building and killed one of them. He was a Hells-Angel ('Bikey' gangs huge problem over here just like US) and high on drugs…been to a strip joint and a group of them at 6 in the morning were arguing –his bird included who was a stripper. There's a lot to be said for 24 drinking bars. The row spilled out of the bar and the gunman grabbed the girl by the hair as she was trying to escape into a taxi…2 passers-by ( a young Dutch backpacker & solicitor) came to her aid so the guy opened fire on everyone. We were holed up in our building for hours as police searched the streets looking for him. Many colleagues witnessed it. The guy was on the run for 2 days & hoped to seek shelter from the Hells-Angels (apparently they hide their own from the long arm of the law) but they turned him in due to the terrible publicity it attracted. He is now in custody. He's a dead man walking as he defected from the Finks (another bikey gang) to go to the Angels so when he hits prison he will be killed at some point by both gangs inside.

On a lighter note I went to my first AFL footy match on Friday night 'Richmond' versus 'Melbourne', the bottom two teams. The match goes in twenty minute intervals with half time and breaks in-between so often a match can take up to 3 hours. The only way to combat the cold is hit the bar, unfortunately we were in the member's area where you can't drink at your seats or cheer. It was fun to watch but a shocking sport, no wonder its only Australian wide - their shorts are too small & tight and they sport curly perms and mullets. On the way back home at 11.30 I prevented a lady being mugged by 3 lads outside the train station which was a little un-nerving as she told me later that they had said they had knives…no more than 18/19 years. Shocking.

I am beginning to miss the water and diving. Itchy feet are coming back so watch this space.

IÂ've an Italian friend coming over to Melbourne on the weekend who is based in Singapore at the moment so it will be fun to have someone to laugh with at the Aussie lack of style, and general uncouth behaviour. IÂ've told him to leave his gentlemanÂ's handbag at home.

Anyway miss you all and enjoy Wimbledon! IÂ've seen the weather forecast and the shocking storms you are having.



Diary Photos
---