Sailng on Windwanderer.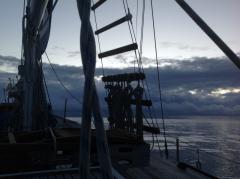 18th Nov 2014
Tuesday 18th November 2014
Tuesday 18th November 2014
Day 4
1151nm to go.
Well not much went down today until late this afternoon.
We have been dodging a few clouds here and there, until around 5pm we looked up and saw a massive storm coming, the clouds were unbelievable they were three quarters of the way around us, and there was no escaping them.
Now we are both really on edge already as we are coming very close to the bottom of Madagascar and that's where all the rough stuff starts going down.
If you go too far in one direction you will get hit with massive storms and rough oceans and if you go to far in the other direction you get to a place where there is a shelf off the coast of Madagascar and it's known for rogue waves, that are massive.
So we need to be careful and watch are direction, also we have been reading up on the cloud formations and so far what we have been seeing all day was correct and it means a storm and big winds are heading our way.
Well man did it hit, we did manage to just get the edge of the storm as the wind picked up big time and started to blow it away from us, but this mother was about 6nm wide and about the same deep.
Lucky the winds did not go too high but it sure brought some rain, it has bucketed down.
We have leaks everywhere, except the port holes....haha
They are fixed but there is leaks in other places that we have no idea how to fix, the place was full of containers collecting water and I actually lost count on how many towels I had dotted around the place, the last count was around ten.
So I'm sitting here hanging on trying not to get thrown off the seat and trying desperately to mop up as the rain keeps coming in.
Well tomorrow is another day.
Diary Photos
18th Nov 2014 Image
No Description
---
18th Nov 2014 Image
No Description
---
18th Nov 2014 Image
What it looks like on the radar in the middle of a storm.
---
18th Nov 2014 Image
No Description
---