Sailng on Windwanderer.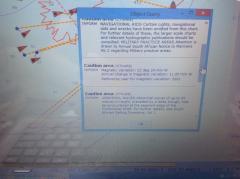 30th Nov 2014
Sunday 30th November 2014
Sunday 30th November 2014
Day 15
97.3nm to go.
Well I can see the coast of South Africa, well kinda it's a miserable overcast day and you can just make out a blurred smudge of land.
Yay we have almost made it, it the early hours of this morning while I was on watch, I noticed a beacon flashing, in the distance, I knew we were getting close to land, but this put me in a bit of a panic, it looked so close and what was it doing out here.
I zoomed in on the chart plotter and the charts we have in the laptop to see what warnings were here.
You see the charts when they are correct will tell you all the warnings for the area and what this and that means, all the dangers even wreaks.
So I zoom in and nothing then I notice a funny symbol on the chart and take a closer look, the following warnings come up.
The three that got my attention was that there is a Military Practise Area around here great, a Magnetic Variation, well that should not bother us as we use satellites so I think we may be alright on that one, but the biggy is and we do know about this one is The
Agulhas Current, this current flows right down the Coast of South Africa, and this current is our last hurdle to get through at around the 200mt depth which is on the Continental shelf, it's where the depth goes from thousands of meters deep to 200meters with all the currents flowing in different directions and if a southwesterly is blowing the waves get very steep and the warning here says up to 20meter waves seriously I have seen 5 meter waves I do not want to be in this area when a 20meter wave hits.
We have to make sure we have a weather window to cross this so we are desperately trying to get a good copy from the Peri Peri radio as they will keep you up to date with whats going on, as it happens we have not been able to hear them real well yet.
And the beacon light I could see was on land over twenty nautical miles away and we were only doing around 4knts so The Captain would be well and truly awake by then.
As it happened we crossed the 200m mark and I slept through it all, The Captain said there was about a 3 meter swell but wide apart and a gentle roll.
At the moment it's almost midnight we are on our way to Durban doing about 2knts this we have planed to go slow so we can get there in daylight, I'm watching a big Cruise ship go pass it's quite close but not dangerous its actually the first cruise ship we have seen since leaving Australia and there are about 6 cargo ships on the radar.
The cargo ships have been coming thick and fast all around us since the early hours of this morning, it's been interesting watching all these ships and seeing all their details come up we always check out the size and their destination, we have seen that a lot are going near the well know pirate areas and one come up on the AIS and actually said it was armed, that's the first time we have ever seen that.
Well tomorrow is another day.
Diary Photos
30th Nov 2014 Image
No Description
---