Sailng on Windwanderer.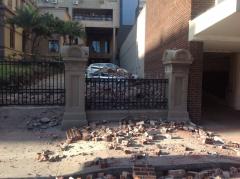 3rd Dec 2014
Wednesday 3rd December 2014
Wednesday 3rd December 2014
Well I can settle now I have caught up with my Mum and Dad on the phone, my three kids and lyn my best buddie.
We still have to get to ring The Captains kids, but he has been busy on the boat every morning and as we have a 9 hour difference it's hard, but Marian an Robin as soon as possible.
So this morning I decided to have a shower off the boat, and go to the little yacht club here to have it.
It really is a lot easier just to have it on the boat, but the generator is not working once again, so for a start the water is freezing, we can't have long showers anyway, but that's not a problem with freezing cold water I tell you.
The major one was I wanted to wash my hair and actually blow dry it for a change, instead of having this feral thing on my head that is suppose to be hair.
Well talk about drama just to get there, for a start it took me ages to gather all the stuff I needed, than the walk up there takes forever.
I get there poke my head in the cubicle and yeap it's a rubber thong affair, now all you people who don't live in gods country, get your heads out of the gutter, us Aussie call thongs your flip flops... Haha.
So in I go armed with soap shampoo, conditioner turn around to turn the taps on and let's just say if you were a Pygmy you would of been fine, serious the shower head is chest hight.
Serious I'm looking at this lot thinking how in the hell am I going to wash my hair, well let me tell you it was not easy, I had to squat serious. It was actually quite funny but by the time I was finished man did I give my thigh muscles a workout...haha
So finally cursing away I get dressed blow dry my hair and by the time I walked out of there I was sweating way more than I was when I first went in.
Well tomorrow is another day.
Diary Photos
3rd Dec 2014 Image
No Description
---