Sailng on Windwanderer.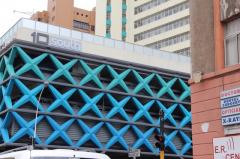 4th Dec 2014
Thursday 4th December 2014
Thursday 4th December 2014
Well what a busy day we have had.
First off we went and checked emails, facebook and stuff at the local cafe while we had breakfast, I tell you the food is so cheap, I just don't bother making anything on board, usually we do breakfast here but today we decided on breakfast there as well.
After this we went off in search of a chemist, an ATM, a watch repairer and to fix our Vodacom SIM card.
We did find them all eventually but most of our time was us looking in clothes stores serious we came across so many and they are cheap everything here seems to be cheap, The Captain ended up with a new pair of shorts and a shirt, myself a top that does not fit haha ( should of tried it on first but at around $6 it really did not matter that much) and we eventually made our way back to the boat.
By the time we got back it was well after three.
We were expecting the sail repairer to be coming back.
Yesterday a rigger came out and we got all the roller furling fix on the main mast, but when they pulled down the main sail it had a meter long rip in it, so that had to go off and get fixed.
We got the davits welded and a bit of spot welding done here and there also they fixed our ladder, which had bent all out of shape, from banging up against the dock.
The never ending problems with the generator is now all repaired and working beautifully.
And we have one more major problem, when they pulled up the floor boards to look at the generator we once again had a bilge full of water. Yeap this time both float switches have failed.
As you can imagine this is a huge worry for us, so we have a guy here sorting all that out thank god.
Well tomorrow is another day.
Diary Photos
4th Dec 2014 Image
Very strange buildings.
---
4th Dec 2014 Image
The Captains Bar.
---
4th Dec 2014 Image
And another
---
4th Dec 2014 Image
Just a building
---