Sailng on Windwanderer.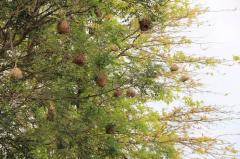 18th Dec 2014
Thursday 18th December 2014
Thursday 18th December 2014
Well we eventually got away from the boat at 1pm.
Man there was a lot to organise, we have a guy who will check on the boat a few times a week to make sure all is ok.
We turned off the main fridge and gave Roserio and Elizabeth a massive amount of food, that would not keep, they sure were happy and should eat well for awhile...haha
But the sad thing was we also had to say goodbye to them, this was really sad all round, as they are sailing back to Sicily and finishing there sailing, we have become really good friends over the last several months and I will miss there happy faces around the anchorages.
I guess that's what happens when your cruisers, you meet and make friends so easy, but you never know if you will see them again.
So another sad goodbye was said to our old girl, Wind Wanderer and just hope she is still above water when we get back.
As we had left late we knew we would not make it to East London by night fall, so we pulled into a little town, called Kokstad.
We were driving past a resort when we decided to stay the night there, it looked so lovely at the front with thatched roofs and beautiful rustic buildings.
We go around back to our cabin and that's when things started to go downhill.
For a start they said there was wifi, it did not work at all, I went to have a shower no hot water, so ended up having a cold one, and then we realised they did not even have air conditioning.
Now the later you may think we are asking too much, but this was costing a lot of money, and we expected to have it all for the price we paid.
So we rang them and said forget it we are not staying here, and left and no we did not pay anything.
So load everything back into the car and we set off once again, we rang a guy and he told us of a nice hotel in town so we rock up there, and yes it was a bit of a dodgy area, but a lot cheaper than the last place, I made The Captain go have a look at the room first, he came back saying its quaint and it's a picture oh man I so did not want to stay here.
But we were tired the place was secure so we decided to give it a go, we go to the room and it was lovely, The Captain was just joking, yes it was not first class but it really had a certain charm about it.
You can see by the pictures why I liked it so much, well done Captain you did good.

Well tomorrow is another day.
Diary Photos
18th Dec 2014 Image
Weaver Birds.
---
18th Dec 2014 Image
Weaver birds nests.
---
18th Dec 2014 Image
Our Unit.
---
18th Dec 2014 Image
No Description
---
18th Dec 2014 Image
No Description
---
18th Dec 2014 Image
No Description
---
18th Dec 2014 Image
No Description
---
18th Dec 2014 Image
No Description
---