Sailng on Windwanderer.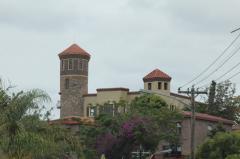 20th Dec 2014
Saturday 20th December 2014
Saturday 20th December 2014
Well yesterday we eventually found a B&B to stay at, after searching half of East London We found this little place called Benri's and what a nice place, only it's right across the road from the ocean, yeah I know but when you live on a boat and that's all you see 24'7 you would at least think we would find a place out in the country or something...haha I seriously think we may be a little bit crazy.
This place is so so nice we could not ask for anything more, and the lady who runs it is just a very special person and made us so welcome, I have to admit I was not keen at all staying at B&B's as my experience of them was you just stay in their house with your own room.
I was so wrong, over here they are all just like little apartments and you just join up with other guest if you want to for breakfast in a shared dining room.
So after a huge breakfast we decided to take a drive around East London we wanted to go to the marina and check it out, so we know what we are in for when we bring the boat in.
The captain still had a lot of memory lane stuff he wanted to show me, and also look at them himself.
We found his house where he grew up and took a lot of pics, the house has not changed too much, only that it now has huge security walls around, and I had to laugh at the look on his face when we found out a coloured couple now own it, yeah he was a little bit horrified.
He showed me the castle across the street which now has a huge townhouse estate on the grounds but you can still see the Castle, imagine living across from a castle, you can actually see how great a childhood he had, they lived on a huge property and had bush going right down to the river.
We found the schools he went to the local shops that he visited, and we took a drive down the many streets that he used to ride his push bike, all I can say he is so lucky he survived his childhood.
Then we had a lovely lunch in a beach front Cafe (more ocean), where I saw Dassies for the first time. (They look a bit like a Rabbit) this one had babies and although we tried hard at taking a photo of them, we failed miserably, they are just too quick.
We then went and visited his ex Sister in law and some friends from many years back, they all had a lovely time catching up, and eventually we made our way back to the B&B after a lovely meal and fell into bed totally exhausted.
Well tomorrow is another day.
Diary Photos
20th Dec 2014 Image
No Description
---
20th Dec 2014 Image
No Description
---
20th Dec 2014 Image
No Description
---
20th Dec 2014 Image
No Description
---
20th Dec 2014 Image
No Description
---
20th Dec 2014 Image
No Description
---
20th Dec 2014 Image
No Description
---
20th Dec 2014 Image
No Description
---
20th Dec 2014 Image
No Description
---
20th Dec 2014 Image
No Description
---