Sailng on Windwanderer.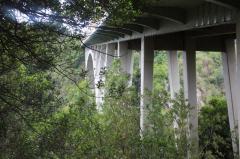 21st Dec 2014
Sunday 21st December 2014
Sunday 21st December 2014
Well today we continued down the Transkei, and what a trip it was.
We had the usual idiots on the roads, but the best was the wild life, oh man I sure got my share and loved every minute of it.
We saw Zebra's, Ostrich, Impala's, Elands, Wildebeest, Wart Hog, Monkey's, Baboons,
Blue Cranes, Guinea Fowl and a massive amount of bird life.
These were all on the side of the roads or in the paddocks beside the road, as you can imagine we were on the lookout the whole time.
On the way we stopped at a pass called Storms River, we had a walk across the bridge, man was it a long way down, and The Captain was so funny, for someone who can spend hours at a time at the top of the mast, he would not go near the edge at all, even though there was no way you could fall over.
He is barring me from a pic I took of him looking very scared, but I'm going to sneak it in anyway...haha
We eventually get to Knysna, what a nice area, I can see why so many people live here, it also has very up market areas.
And if your interested Knysna is where our boat was from.
So when we take her there in a few months time she will have done a circumnavigation
just not with the same owners on board.
We decided to go have a look at the heads where we will need to sail through, we have been told this can be a rough entry, oh man today it was shocking so we sure will need to pick the right weather window.
Then we meet up with a friend that we meet on facebook and The Captain knew him from a sailing website as well.
We get to Marks place and he was a bit shocked at my accent.... In his words you don't hear that on facebook.....haha
We meet up with his lovely wife and their little girl, what a lovely couple they are, he had also organised a B&B for us to stay for the night.
Now we are driving towards this place and hit dirt roads, I was feeling very unsure about this whole deal, it was way out in the country with not much around.
The place was called The Elephants Rest.
As we rattle down their drive way, this very hippy long hair bearded guy comes out, I was almost ready to lock the doors.
But we get out and his wife joins him and within minutes it was like they were old friends.
Man they were so nice and so down to earth and the little cottages they had were great, we could not have asked for more.
This place was right at the bottom of the Knysna Forrest, where the elusive Knysa Elephants live.
Although not many people have seen these and a lot will say they are extinct there is evidence that they are still around, the locals will say that there is around 13 left but to the world they will only say there is one.
Also there are still leopards around as well, they told us about a local guy who was chased by one while riding his push bike, although, he may have just been curious, or he would of caught him if he really wanted too.
We had a bite to eat and shared a bottle of wine sitting outside on the deck and just enjoyed the views and sounds.
Late that night I heard a strange growling sound and instantly every dog from miles around starting making a heck of a racket, we actually think it was a leopard but could not be sure.
Well tomorrow is another day.
Diary Photos
21st Dec 2014 Image
No Description
---
21st Dec 2014 Image
No Description
---
21st Dec 2014 Image
No Description
---
21st Dec 2014 Image
No Description
---
21st Dec 2014 Image
No Description
---
21st Dec 2014 Image
No Description
---
21st Dec 2014 Image
No Description
---
21st Dec 2014 Image
No Description
---
21st Dec 2014 Image
No Description
---
21st Dec 2014 Image
No Description
---
21st Dec 2014 Image
No Description
---
21st Dec 2014 Image
No Description
---
21st Dec 2014 Image
No Description
---
21st Dec 2014 Image
No Description
---
21st Dec 2014 Image
No Description
---
21st Dec 2014 Image
No Description
---
21st Dec 2014 Image
No Description
---
21st Dec 2014 Image
No Description
---
21st Dec 2014 Image
No Description
---