Sailng on Windwanderer.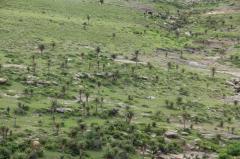 19th Dec 2014
Friday 19th December 2014
Friday 19th December 2014
Well we are here in East London, Back to The Captains roots.
Today we drove through the Transkei area, this is where Nelson Mandela's tribe came from, it was called Xhosa.
We actually seen some Maquetas, they are the teenage boys from tribes ceremonially becoming men, they get circumcised, then they wrap themselves in robes and have to basically go bush for a month and not come into any contact with women for that time, then they are officially men.
This was not a tourist thing at all we actually seen them roaming in the hills I actually got a distant pic of some doing the ceremony, it was quite something.
It was a funny experience driving through here although it's now more modern you still get a glimpse of the old life as well, you see all these clusters of homes all over the hills and can just imagine how it was before, the homes would of been Rondavels ( these are round huts with thatched roofs ) you still see the huts as well and some places have more modern ones built now, also there is always one larger home this would be the Chief of the tribes home.
So really not a great deal has changed just a little bit more modern, we have seen the woman washing clothes in gullies, and also the woman working the soil with pics, and saw a man ploughing with a ox pulling a single blade plough.
There are herds of cattle, goats and horses and they have a shepherd on guard ( they may be asleep under a tree but they are always there ) it really felt like we had gone back in time, and everyone walks, this is real country areas and it's nothing to see people walking on the side of the road down tracks, on hills they just seem to pop out of nowhere, you wonder why they are there, some are sitting under trees, some sleeping in the grass, ( which The Captain calls Floppies ) some just standing in groups passing the time away,
You really get the sense of community and families something that has almost been lost in a lot of countries.
Then you get to the cities oh man are they third world and dirty and crowded and take forever to get through, but I just loved all the sites as well, the way they carry their babies on their backs I just love to see and the babies are so so cute.
Then you have the woman carrying stuff on their heads, they are taught when they are little to walk with a bottle of water on their heads, I tell you these woman have the best posture and strong, man they carry anything and everything, I have made it a mission to try and capture on camera as many as I can of all the different stuff they carry, some do cheat and use one hand but most no hands at all.
The Captain was going down memory lane the whole time we were driving, he used to drive his old MG along these roads in his early twenties and pretend it was a race track, how he survived I have no idea, these roads wind all around the place.
Talk about roads, man the drivers are crazy, they take no notice of the lines on the road, and overtake on bends and corners, we watched many a times in horror at the near misses.
But we eventually made it into East London, where The Captain was horrified at how much it has changed, it seems like what has happened in Durban has happened here as well, all the white people and middle class blacks have left and gone out to the surrounding suburbs and the lower class Black community have taken over.
Now don't get me wrong I have nothing against any race in any form, but seriously they have turned the towns into ghettos or worse, it's such a shame and I know they are not all like this, but it seems to be happening a lot here.
It really is so different from Australia I can really understand why a lot have moved away to different countries.
The biggest shock to me is understanding The Captain a lot more, I always classed him as being so raciest and still is a bit, but you really need to visit here for awhile and actually see it for yourself, it sure is an eye opener.
Well tomorrow is another day.
Diary Photos
19th Dec 2014 Image
No Description
---
19th Dec 2014 Image
No Description
---
19th Dec 2014 Image
No Description
---
19th Dec 2014 Image
No Description
---
19th Dec 2014 Image
No Description
---
19th Dec 2014 Image
No Description
---
19th Dec 2014 Image
No Description
---
19th Dec 2014 Image
No Description
---
19th Dec 2014 Image
No Description
---
19th Dec 2014 Image
No Description
---
19th Dec 2014 Image
No Description
---
19th Dec 2014 Image
No Description
---
19th Dec 2014 Image
No Description
---
19th Dec 2014 Image
No Description
---
19th Dec 2014 Image
No Description
---
19th Dec 2014 Image
No Description
---
19th Dec 2014 Image
No Description
---
19th Dec 2014 Image
No Description
---
19th Dec 2014 Image
No Description
---
19th Dec 2014 Image
No Description
---