Sailng on Windwanderer.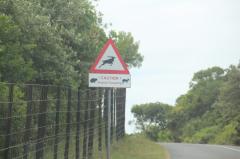 22nd Dec 2014
Monday 22nd December 2014
Monday 22nd December 2014
Well we set off, after having a light breakfast and a walk around the gardens, than met up with Mark at the local yacht club.
This is were are boat was for years, so Mark introduced us to a lot of locals telling them that we were the ones that brought Andrews boat, they all felt sorry for us...haha
Mark follows are blog and had been telling them a lot of our travels, so we all kinda felt like old friends.
They have a lot of beautiful shops along the water front here, where I indulged in some much needed retail therapy, than we hit the road again.
We meet up with The Captains nephew Craig at a place they call Wilderness where we had a late lunch then on we went again.
Late in the afternoon we finally arrived at Heather and George's home, ( The Captains sister and Brother in law.) where we could finally relax.
Well tomorrow is another day.
Diary Photos
22nd Dec 2014 Image
No Description
---
22nd Dec 2014 Image
No Description
---
22nd Dec 2014 Image
No Description
---
22nd Dec 2014 Image
No Description
---