Dora The Explorer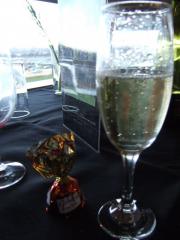 13th Jul 2007 - 15th Jul 2007




Footy & Horse Racing



So the weekend got off to a blinding start with Friday night spent in the pub with Donna & friends.....(is there a pattern developing here?). The AFC Asian Cup is on at the moment so many Aussie's are avidly following the football hoping that somehow against all odds the Socceroos (aussie footy side) will do them proud and win the Cup. No chance – not after the way they dismally lost 3 -1 to Iraq in Bangkok on Friday night. Both teams were on the floor more than they were playing, with an extra 5 minutes injury time. Suggested explanations to this included "Iraq team full of amputee's?" / "Australia's coach is youth team's coach & they were just trying to cut costs?". Either way no getting around the fact that Australia were quite frankly pants.

They play Thailand tonight. I hope they have better luck than the aussie's badly injured in the 8th stage of the Tour De France!

Went to Moonee Valley Horse races on Saturday with a friend of mine who had won 'fashions on the field' at another race day earlier in the year. His prize being a corporate box package of dinner, drinks & lots of betting. Funnily enough sober betting always seems to yield unlucky choices, whilst drunken champagne bets always yield very good winners! By the end we had won back the 100 bucks on the superstar 'Jennings" and then some.yay! We came away floating down the stairs to take some pictures before we left & staggered back home. Needless to say I passed out watching Doctor Who on Saturday evening…classy lady eh.


Well then flight is booked back to Brisbane this Saturday 21st so spent remainder of weekend feeling sorry for myself with tremendous hangover & trying to squeeze everything in backpack. Borat & cheesecake eased my suffering in the evening. This is my last week at ANZ so trying to tie up all loose-ends down here I head back up North. Aunty Jen thanks for your email & you are right..."you will have to get a grip on your boredom thresholds..... I think it's a Ling trait unfortunately! ". I like to think of it as curious?! But a worrying one all the same. Will I ever settle anywhere?!


After briefly stopping by Uncle Col's I will be heading up to the Whitsunday Islands next week for a few days - few potential job opportunities & a spot of diving. Although the water I fear is going to be bl@@dy freezing. It will be interesting to see how my wonky hand fares in the water. Another option I have is Port Douglas involving more diving & underwater photography which is an area which I am keen to develop. There's a company up there which does all the photography & videography for Quicksilver so there will be plenty of talented people who can help me!! I guess it's a case of, excuse the pun but 'sink or swim' as to how well received my photography will be …. but then again I never seem to do things by half measures!



Diary Photos
---