Sailng on Windwanderer.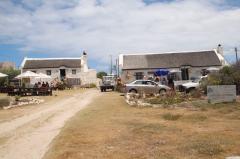 26th Dec 2014
Friday 26th December 2014
Friday 26th December 2014
Well we went on a road trip to Arniston where there is a beach that has a lot of caves.
After walking a million miles up hill I might add we finally get to the place and we had to walk down a side of a cliff to get there.
We had checked the times and it should have been low tide, this is the only time you can reach the caves.
Well let me tell you it was no where near low tide we waded through water up to our knees waves crashing everywhere and managed to at least see the mouth of a cave so I guess that was something.
The horrible thing was we had to trek back up these hills to get back to the car.
We did find out later that it really was low tide but the seas have been so rough that the tide was up about 3 meters, another reason why we are glad we are not sailing these waters at the moment.
We then drove through a really nice little seaside town and then had lunch at a little cafe where they sold really nice Fish and Chips.
Then on we went to a little Art studio where Heather has some of here paintings for sale.
Heather is an artist and a very good one at that, I'm trying to get here to paint me a few paintings, we will have to see if my pleading and begging works....haha
Then on we went once again this time to the Cape Agulhas, which is the Southern most tip of Africa, it's actually also where the Indian Ocean meets the Atlantic Ocean talk about a wild coast line we can't wait to finally get here with the boat and can say goodbye to the Indian Ocean, man that will be one happy day.
There was one flaw in the day and I have to tell it as I was totally disgusted.
While we were sitting having our fish and chips, on wooden tables outside, a black couple came and sat behind us, I have learned they class the races in three , you have the whites the coloureds and the Blacks, yeah I know it sounds all wrong but it's how it is over here.
Anyway this couple sits down and a white couple sitting across from them looked up in disgust and gave them the most filthy look and actually changed tables.
I was actually ashamed to be White right at that moment, I so wanted to give them a dressing down, but the Black couple took it in there stride and just kept on enjoying themselves, to me they are the hero's they did not let it bother them one bit, on the other hand it took me quite a while to settle.
Well tomorrow is another day.
Diary Photos
26th Dec 2014 Image
No Description
---
26th Dec 2014 Image
No Description
---
26th Dec 2014 Image
No Description
---
26th Dec 2014 Image
No Description
---
26th Dec 2014 Image
No Description
---
26th Dec 2014 Image
No Description
---
26th Dec 2014 Image
No Description
---
26th Dec 2014 Image
No Description
---
26th Dec 2014 Image
No Description
---
26th Dec 2014 Image
No Description
---
26th Dec 2014 Image
No Description
---
26th Dec 2014 Image
No Description
---
26th Dec 2014 Image
No Description
---
26th Dec 2014 Image
No Description
---