Sailng on Windwanderer.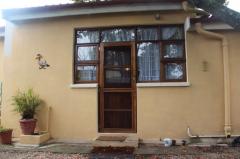 29th Dec 2014
Monday 29th December 2014
Monday 29th December 2014
Monday was another much needed rest day, well kinda anyway.
George and Heather had some friends dropping in and wanted to bake some Koeksusters.
So today was a bit of a South African food day. It started with Pap for breakfast, let me tell you they can keep their Pap gladly, it's like having mashed potatoes for breakfast, although it does not really taste like mashed potato it sure looked like them.
It's actually a porridge made from maize meal, and has been a stable diet for most of the coloured population for years, it really has no flavour at all Just a gritty texture, they often put butter and sugar on It, I opted for just sugar but even that did nothing to improve the flavour.
Than Heather showed me how to make Koeksusters ( cook sisters ) now these are fantastic and deadly for the waistline.
Man they are so good, you make a sugar syrup, we had two different recipes going at the same time, one had ginger in it and the other syrup had lemon juice, both were great but Heathers recipe with the lemon juice won hands down.
Basically it's almost like a donut but you twist two strips of dough together sometimes you plait it and then you deep fry them and while still boiling hot dunk them in the syrup, they soak up all the syrup and yeah man they are good.
Heather also makes cakes for a local cafe in town and had a order for two that day as well, these are Called Bar one cakes, a bar one is almost the same as a Mars Bar back home, although we were not allowed to try the cake she did keep me a bit of the icing,
I broke off a piece of a Koeksusters and dunked it into the icing man, everyone was horrified of me ruining a Koeksusters until they all had a taste, than they all agreed that it should be a new desert that Heather should make often....haha
Well tomorrow is another day.
Diary Photos
29th Dec 2014 Image
No Description
---
29th Dec 2014 Image
No Description
---
29th Dec 2014 Image
No Description
---
29th Dec 2014 Image
No Description
---
29th Dec 2014 Image
No Description
---