Sailng on Windwanderer.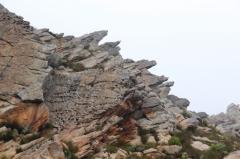 30th Dec 2014
Tuesday 30th December 2014
Tuesday 30th December 2014
Well I have to say George is not letting us get bored here, today he had organised a tractor ride up into the Langeberg Mountains.
When I first heard about this I thought it was pretty lame, and something that old people would do...haha But being the good person I am...haha I went along with it anyway.
Well it actually turned out to be a really fun day.
We all got on trailers that are pulled by a tractor and off we went and we went straight up a mountain, I tell you we sure were holding on in some area, it actually got a little bit scary.
We were so high up on a mountain that we were in the clouds, the view when we could see it was great.
They have a lot of hikers around this area and it is such a rugged landscape they would need to be very fit to tackle these mountains.
The mountains are one thing that is a surprise to me, the country is covered in them I always thought of South Africa as just plains of flat ground.
We stopped here and there and eventually made it back down all in one piece, where they served a typical South African lunch, pity I could not try it as it had garlic in it, so I had a very boring lunch of bland rice and a piece of bread.
All in all it was a nice day and 4 very weary travellers made our way back home for a much needed rest.
Well tomorrow is another day.
Diary Photos
30th Dec 2014 Image
No Description
---
30th Dec 2014 Image
No Description
---
30th Dec 2014 Image
No Description
---
30th Dec 2014 Image
No Description
---
30th Dec 2014 Image
No Description
---
30th Dec 2014 Image
No Description
---
30th Dec 2014 Image
No Description
---
30th Dec 2014 Image
No Description
---
30th Dec 2014 Image
No Description
---
30th Dec 2014 Image
No Description
---
30th Dec 2014 Image
No Description
---
30th Dec 2014 Image
No Description
---
30th Dec 2014 Image
No Description
---
30th Dec 2014 Image
No Description
---
30th Dec 2014 Image
No Description
---
30th Dec 2014 Image
No Description
---
30th Dec 2014 Image
No Description
---