Sailng on Windwanderer.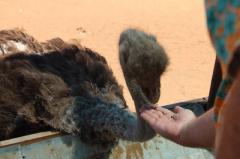 31st Dec 2014
Wednesday 31st December 2014
Wednesday 31st December 2014
Well today we set off once again.
This time we are doing an over night trip.
The first stop was at a place called George, where we had to organise our flights home, we will arrive back in Aus on the 14th January after a very long flight, of 23 and a half hours, we do have a stop over in Hong Kong of two hours so I guess that is something, but this time we will be home for 5 weeks.
We then went to an Ostrich farm, where we did a tour, it was really interesting to see the history of ostrich farming and we got up close and personal with these guys.
Years ago their feathers were where all the money came in, but now it's their meat and hide.
They make so many different things with the leather but it is hugely expensive, and I would not try ostrich meat no matter how many different ways that it was prepared on their lunch menu.
Then on we went to find the cottage that George had booked for the night, I was a bit worried about this as it was very cheap and was told it was very basic.
We drove for ages on a dirt track way out in the middle of the country side, well we sure were surprised it's really nice and we have enjoyed the quiet and serenity of this country it really is a pretty place.
And the highlight was when we were sitting outside on the verandah and saw a mere cat run past, man I love Africa's wildlife.
Well tomorrow is another day.
Diary Photos
31st Dec 2014 Image
No Description
---
31st Dec 2014 Image
No Description
---
31st Dec 2014 The Captain dancing on ostrich eggs.
No Description
---
31st Dec 2014 Image
No Description
---
31st Dec 2014 Image
No Description
---
31st Dec 2014 Image
No Description
---
31st Dec 2014 Image
No Description
---
31st Dec 2014 Image
No Description
---
31st Dec 2014 Image
No Description
---
31st Dec 2014 Image
No Description
---
31st Dec 2014 Image
No Description
---
31st Dec 2014 Image
No Description
---
31st Dec 2014 Image
No Description
---
31st Dec 2014 Image
No Description
---
31st Dec 2014 Image
No Description
---