Sailng on Windwanderer.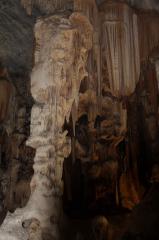 1st Jan 2015
Thursday 1st January 2015
Thursday 1st January 2015
Well first off a Happy New year to all my friends and family.
Today after a relaxing breakfast we set off once again, this time to Cango Caves.
These Caves have been around for something like a billion years, the stalactites and stalagmites are amazing, our tour took us through the depths of this place where we wandered around for an hour or so taking it all in.
We took the easy Heritage tour, instead of the Adventure Tour as they had a cut out of what you have to climb through and some areas I swear my arm would not even fit through, the thought of getting stuck in one of these tight places, was enough for me.
The Tour guide did tell us a story of how one lady got stuck for twelve hours or so, am not sure how they got her out, maybe they waited for her to lose a bit of weight I'm not sure, if it had been me they would of had to sedate me, I just hate tight spaces.
Then we set off for home and found a nice little town where we had a lovely lunch then finally made it back home late in the afternoon.
Well tomorrow is another day.
Diary Photos
1st Jan 2015 Image
No Description
---
1st Jan 2015 Image
No Description
---
1st Jan 2015 Image
No Description
---
1st Jan 2015 Image
No Description
---
1st Jan 2015 Image
No Description
---
1st Jan 2015 Image
No Description
---
1st Jan 2015 Image
No Description
---
1st Jan 2015 Image
No Description
---
1st Jan 2015 Image
No Description
---
1st Jan 2015 Image
No Description
---
1st Jan 2015 Image
No Description
---
1st Jan 2015 Image
No Description
---
1st Jan 2015 Image
No Description
---
1st Jan 2015 Image
No Description
---
1st Jan 2015 Image
No Description
---
1st Jan 2015 Image
No Description
---
1st Jan 2015 Image
No Description
---
1st Jan 2015 Image
No Description
---