Sailng on Windwanderer.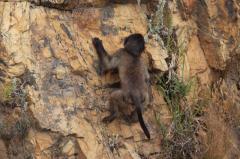 4th Jan 2015
Sunday 4th January 2014
Sunday 4th January 2014
Today we left George and Heather and are continuing on our trip, We went to a place called Franschoek, not sure the Aussie name for this.
What a pretty spot although very up market and touristy we had a lovey lunch with. George and Heather.
We then wandered around all the little boutique shops and galleries then once again had afternoon tea.
George than took us to the airport where we hired a car, and said farewell to them and off we went on our own once again, on the way there we finally caught some baboons on camera, these guys are often on the side of the road in a lot of areas, but we either have not had the camera or it's been in the boot.
But today we got lucky and managed to get some good pics.
We eventually made it to a place called Fish Hoek, where we were meeting up with some friends of The Captain, John and Helen they have been friends for forever, and they had not seen each other in many many years.
We are staying for a few days with them in their holiday home on the beach.
Talk about luxury, this sure is the life I tell you, we basically have all downstairs to ourselves, but choose to spend most of the time with them up stairs.
Well tomorrow is another day.
Diary Photos
4th Jan 2015 Image
No Description
---
4th Jan 2015 Image
No Description
---
4th Jan 2015 Image
No Description
---
4th Jan 2015 Image
No Description
---
4th Jan 2015 Image
No Description
---
4th Jan 2015 Image
No Description
---
4th Jan 2015 Image
No Description
---
4th Jan 2015 Image
No Description
---
4th Jan 2015 Image
No Description
---
4th Jan 2015 Image
No Description
---
4th Jan 2015 Image
No Description
---