Dora The Explorer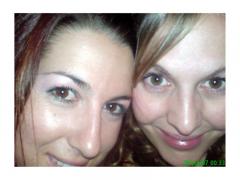 23rd Jul 2007 - 26th Jul 2007




Direction Please



I've had more ups and downs this week than a hard-core rollercoaster ride! Ok so let's start from the top, left ANZ last Friday in search of waters deep & warm. Had the flu last week so feeling particularly lousy & in need of sleep but the thought of $$ dragged my sorry carcass from my bed into work. I had lots of things to sort out which didn't help my somber mood so was glad when Friday rolled around. My friends in Melbourne had organized a farewell dinner which became all too emotional after a few glasses of red and so I went to bed blotchy faced with a pit of anxiety in my stomach (which hasn't gone). My manager has offered me sponsorship with the bank if all else fails (thanks for the confidence vote!) which is a very kind offer! Armed with a gorgeous array of farewell goodies I departed with my tail between my legs and my uncertain future looming ahead of me!

Brisbane is far warmer I am pleased to say, so have spent the last week skipping around with my sunglasses on with the anticipation of summer in the air. Travelled up to the Whitsunday's earlier in the week for a Marine Biol role which although offered to me does not potentially have scope for sponsorship I found out yesterday by email. Quite annoyed as the flights were an unnecessary expense as have plans for some new dive equipment. On top of that were the noisy 21 year old backpackers who didnt go to sleep all night and kept drinking under my balcony in the bars..Or am I getting too old? Either way didn't help the bags under my eyes the next day.

Feeling rather despondent after that email & pondering my next step five minutes later a guy from Cairns rang offering me photography work with his company Scubapix. I liked him immediately ¬Ė very honest, straight to the point & with a sense of humour-VERY IMPORTANT when snot is hanging down the nose after diving. It seems sponsorship is extremely possible so have bitten the bullet and booked my flight to Cairns this morning. Sometimes you think you are heading down one path then whoosh something else comes along and pushes you in another direction. Story of my life at the moment.

To ease my despair I've been shopping and bought myself a 160gb hard-drive for my laptop....whatever happened to the Louise who used to get excited by reduced Bally bags & shoes in Malaysia? I am becoming a geek.


So this weekend was spent chilling out with Kirby ( from LEI) and Laura ( mate in brisbane) - plenty of drinks & gorgeous pad thai. Thank you to 21 year old Bruno Vella Calla with the piercing blue eyes - I am half your age son but thanks for the vote of confidence!



Diary Photos
---