Sailng on Windwanderer.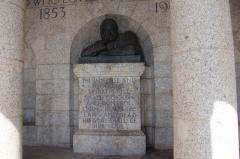 8th Jan 2015
8th January 2015
Saturday 8th January 2015
Well how does time fly? Man I can't believe it's been so long since I have wrote down anything.
So much has happened, that I know I will forget half of it, but I am sure going to try not to...haha
To jog some of your memories and mine as well, we are going back to when we left John and Helen The Captains friends, for the first time.
We left on our road trip on time, and set off, the first place we stopped at was Rhodes Memorial, this is in memory to Cecil John Rhodes, who in his time was one of the riches man in the world, he had his hand in a lot of things but mainly diamonds and gold.
We finally got to our first stop for the night, we were told there was a game park hotel that would be good to stay at, but it was not meant to be, as they were booked out, so off we set once again down the long dusty road and back into town, the guy at the game park gave us a name of a place in town, so good old garmin to the rescue, soon had us there in no time.
Now this place looked great with a very rustic feel about it, we managed to book the last room available, and yeap it sure was Rustic to say the least, being the last room and, I guess no one would pick this room as it was still in the stages of being renovated, with walls half painted and such, The Captain was not impressed at all, but I took one look at the bed and was happy, serious it had the most biggest bed I think I have ever seen, it was huge.
We slept well had some breakfast at the hotel and off we went once again, this time the destination was Kimberley, now if you know anything you will know that Kimberley is famous for their Diamond Mine, well maybe just us girls know that..haha
We managed to get there in the early afternoon, so we could have a chance to see the Big Hole.
This hole is the biggest man made hole in the world or was at the time, that may have changed now I'm not sure.
We did the touristy thing and took a tour we watched a short film on how it all started and such went and looked at the hole, I tell you it was something to see man however did they dig that hole is beyond me it's huge but I guess when the diamond fever gets hold of you there is no stopping you.
Of coarse it's half full of water now as they hit a natural under water river and it flooded, a lot of lives were lost at the time, eventually they stopped mining it from the top and started digging under it. Where to this day they still are mining it.
We also went under ground and walked through a mine shaft, I could never be a miner, I felt a bit freaked out about being under ground even though we were not very deep down, it still felt stuffy I take my hat off to miners man they must of had it hard back in those days.
The trip carried on the next day, then we finally made it to Joberg, the next day we went and visited The Captains sister Roselyn and brother in law Errol, we spent a lovely afternoon with them and then had dinner with The Captains niece Kate and Alan and their daughter Zoe, we spent a lovely time there as well.
Then the day finally arrived it was time to get on that plane for the long flight home, 23 hours flying with a stop over in Hong Kong for a few hours and then finally home.
Well tomorrow is another day.
Diary Photos
8th Jan 2015 Image
No Description
---
8th Jan 2015 Image
No Description
---
8th Jan 2015 Image
No Description
---
8th Jan 2015 Image
No Description
---
8th Jan 2015 Image
No Description
---
8th Jan 2015 Image
No Description
---
8th Jan 2015 Image
No Description
---
8th Jan 2015 Image
No Description
---
8th Jan 2015 Image
No Description
---
8th Jan 2015 Image
No Description
---
8th Jan 2015 Image
No Description
---
8th Jan 2015 Image
No Description
---
8th Jan 2015 Image
No Description
---
8th Jan 2015 Image
No Description
---
8th Jan 2015 Image
No Description
---
8th Jan 2015 Image
No Description
---
8th Jan 2015 Image
No Description
---
8th Jan 2015 Image
No Description
---
8th Jan 2015 Image
No Description
---
8th Jan 2015 Image
No Description
---
8th Jan 2015 Image
No Description
---
8th Jan 2015 Image
No Description
---
8th Jan 2015 Image
No Description
---
8th Jan 2015 Image
No Description
---
8th Jan 2015 Image
No Description
---
8th Jan 2015 Image
No Description
---
8th Jan 2015 Image
No Description
---
8th Jan 2015 Image
No Description
---
8th Jan 2015 Image
No Description
---