Sailng on Windwanderer.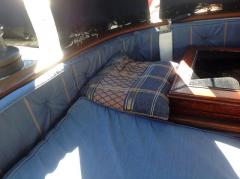 28th Feb 2015
Tuesday 28th February 2015
Tuesday 28th February 2015
Well hello Durban again, yeap we are back on the boat, after around three months we are finally home again.
Is it good to be back? Well am hoping it will be soon, man is this vessel of ours dirty.
It is covered in dirt, dust and bird poop, we even had a birds nest in one of our baskets out the back, they sure made themselves at home.
After what felt like weeks we finally have the boat back in order, it's all clean again and smelling nice once more, I have even finally caught up on all the washing, it was so bad that we even had to go and buy a new pair of sheets, this was way over due anyway, and I'm glad we did as we lost a sheet over board, while The Captain was suppose to be keeping an eye on them.
I had gone up the road to do some shopping and I came back and he broke the news to me that we had lost some pegs overboard, I'm thinking well that's no big deal I have plenty, until the next words that came out was it was attached to a bed sheet.
Well he is just so lucky this one was ready for the rag bag, I really hate losing stuff overboard, and we won't even mention my two most precious jackets, that the crocs in Darwin are most likely still looking very stylish in.
We had a pleasant surprise when we got back. As we were feeling a bit lost, all our friends that we had made before we left had all now gone, we were once again the last ones standing. Until we saw Marcie and David, they are an American couple that we first meet in Cocos, than again in Mauritius and than in Durban before we left, they had also left their boat and gone back to America for awhile.
We have had some lovely catch up time, Marcie and myself have been provisioning shopping together, we have had meals out together, and also on their boat and basically just hung out together waiting for the elusive weather window, that was looking like it would never come.
Marcie was telling me about how she cans a lot of chicken and stuff, this got me hunting for a canner, well not in South Africa, they just don't can, it would of cost an arm and a leg to get one sent here.
So that little venture quickly died out, until we decided to buy theirs from them, they will not use it again until they are back in the States where they can buy another one, so it all worked out great.
We managed to find a place that sold jars brought a lot of Chicken, Sausages, mince, meat and boerewors, which is a South Africa sausage, and went to work.
Marcie came over and showed me how to use it and than I spend two full days canning, just call me Mary, I feel like a woman out of Little House on the Prairie, next I'll be wearing a bonnet....haha
We decided to get our cockpit cushion redone while we waited, Clyde had done some work on nine of cups and we were very impressed, so after a few phone calls and visits we eventually picked out a colour, and a promise from Clyde they would be done in less than a week.
While he was at it we also got a awning made for the back deck, we so needed some shade there and was hoping it would help the water leaks, in our cabin.
Did it work nope we still have the leaks, but the shade is good.
And as Murphy's law will have it a weather window turned up and our cushions were not ready.
There was a lot of blame from the material being late, couriers not turning up, you name it, it happened.
In hind sight we are glad we didn't go, Nine of Cups got slammed, their main sail got blown off its track except for the top and bottom, they had massive seas and massive winds.
Clyde eventually came through and delivered our new cushions, it was not really what we wanted the colour is way too light and it's going to mark something terrible, they did not fit real well either, but after some adjustments they all fit good now, there is not much we can do about the colour, so we will just have to live with it, I really like them it's just a shame it won't stay this way for long.
Well tomorrow is another day.
Diary Photos
28th Feb 2015 Image
No Description
---
28th Feb 2015 Image
No Description
---
28th Feb 2015 Some chicken all done.
No Description
---
28th Feb 2015 My canner.
No Description
---
28th Feb 2015 Before and after, my one and only time I will clean these.
No Description
---