Sailng on Windwanderer.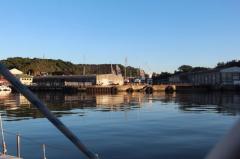 24th Mar 2015
Tuesday 24th March 2015
Tuesday 24th March 2015
Well first off I want to wish my Girl a very Happy Birthday, and I hope bub gives you a break from morning sickness today.
Love you heaps. xxx
Well cheers all round, we finally have a weather window, after waiting three weeks, we are out of here.
We decided to go first light, as it was only a short window, so up bright and early, we started up the engine, The Captain had managed to get a security guard to help with the lines as we backed out.
I was very nervous about this little manoeuvre, as we had no room to make mistakes, we had boats all around us and less than a boat length of water to turn in.
Well The Captain done it in fine style we did not hit anything and made it on the first attempt, well done cap that was some fancy manoeuvring.
So out we go we are about 40 miles off shore and and doing great when The Captain goes on the radio to listen to the weather report.
And there it is, the wind that was going to hit in a few days time is coming tomorrow.
The guy on the radio said to turn back, and get to a safe anchorage ASAP.

We discussed it for a total of a minute and turned back, this is one thing we have never done before, we would normally just solider on, but being this particular coastline and knowing that it gets really ugly on the Agulhas current, it can reach up to 20 meter waves we think we made the right decision.
Although it sure was hard to turn around, the wind had picked up big time and we had to beat into it.
We knew there was a counter current close to the shoreline and we headed for it, hoping that it would get us back to Durban quicker.
The current really did not do much and we made slow progress.
The Captain decided to have a sleep and I took over, well in no time at all the current picked up and we were flying, I woke him up about 30 minutes from the port entry, and we made our way in.
It was pitch black, but they had good lights and we got in fine, we did have to bob around a bit while we waited for a car carrier to come out, and yeap it was stressful coming in at night but we managed to get close to the marina and dropped the anchor around two in the morning.
We sat on anchor for a day, as we decided it was just way too much of a hassle to check back in and check out again.
That night the storm hit, we are so so glad we decided to turn back, man it was bad with 45knt winds and that was safely tucked into the back of the port, I would hate to see what it would of been like out there.
We had a few anxious moments especially when The Captain realised the mizzen sail was not pulled in enough and the wind caught it and it furled right out, well all hell Broke loose this sail is flapping around like crazy the rope was a deadly missile and it wrapped itself around my fishing rod.
I tell you there was a lot of pirate language flowing, it finally untangled itself and we managed to get the sail back in, but with damage, not to the sail, to my favourite fishing pole, it broke off several eyelets, I was not happy at all.
Before we knew it the next weather window was here, we up anchored and headed out for the second time, and yeap we made it, we are safely anchored in East London.
This is where The Captain was born and raised, there is a lot of memories here for him, including his first job, he was a hatch Clark, he would be the first one into the hold to check the cargo for damage in the big ships.
Although it's changed a lot, the old warehouse is still there. This is where they used to hold all the goods, as it was way before there was even shipping containers...haha man he must be old.
We rang his ex sister and brother in law, and they came out to the boat, we had a lovely meal and catch up with them.
David and June where very impressed with our little ship, and David was blown away that this was the same yacht that he used to admire for years in Knysna.
We also borrowed their car for a few days and did some shopping and bits and pieces.
Thanks again guys it was a huge help and the visit was lovely and a lot of fun.
While we sat here waiting for the next weather window we watched a heap of Mercedes cars being lined up for the next lot of car carriers to come collect them.
They get shipped all over the world from here, it sure was something to see the goings on.
It takes hours to get it all done, they bring the cars down, line them up on the wharf, a mini van comes down collects all the drivers and takes them back for the next run, by the time they were finished it was well into the night, and I would have to say there are hundreds of them.
The morning we were leaving a huge mother of a tug boat come up to us and asked if we could move so the car carriers could get in, once they knew we were leaving in a few hours they were fine.
So off we set once more this time we are heading for Knysna, back to where the boat originally come from.
She will have down a circumnavigation just not with the same owners.

Well tomorrow is another day.
Diary Photos
24th Mar 2015 Image
No Description
---
24th Mar 2015 Image
No Description
---
24th Mar 2015 Image
No Description
---
24th Mar 2015 Image
No Description
---
24th Mar 2015 Image
No Description
---
24th Mar 2015 Image
No Description
---
24th Mar 2015 Image
No Description
---
24th Mar 2015 Image
No Description
---
24th Mar 2015 Image
No Description
---
24th Mar 2015 Image
No Description
---
24th Mar 2015 Image
No Description
---
24th Mar 2015 Image
No Description
---
24th Mar 2015 Image
No Description
---
24th Mar 2015 Image
No Description
---